Officials seeking to extend National State of Emergency through June
Wednesday, April 22nd, 2020
The current National State of Emergency is due to expire at the end of the month, but now reports are that it could be extended for two more months. The state of emergency was triggered by the current COVID-19 pandemic, and the possible extension was announced by the Minister of Tourism and Civil Aviation, Honourable Manuel Heredia Jr., during Reef TV's Morning Show on Wednesday, April 22nd (statement begins at minute 21 in video below). According to him, this will not be made official until it is discussed at the House of Representatives and the Senate before it is signed into law by the Governor General.
Heredia indicated that on Monday, April 27th there will be a sitting of the House of Representatives with four members of the ruling party (United Democratic Party) and three from the Opposition (People's United Party). The minister explained that the meeting is to discuss the possibility of extending the proclamation of the National State of Emergency. "The Attorney General will then outline the details of the proclamation, and broadly I can say that it will tentatively extend for two months, which will take us to the end of June," said Heredia. He added that this new proclamation will include provisions to allow commercial activities within municipalities to receive an extension as well.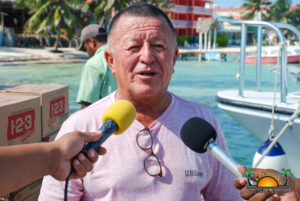 All borders will remain closed, including the Philip S.W Goldson International Airport and ports. Heredia pointed out that the state of emergency could be lifted sooner than two months depending on any improvement regarding the COVID-19 situation abroad. Although the Belizean economy has taken a massive hit, the health of Belizeans is a priority, thus, the suggestion to extend the National State of Emergency will be looked at. "There will be a time when we will be fighting to bring up our economy, but until then let's continue following instructions, let's practice good hygiene, and social distancing," said Heredia.
While Belizeans might need to brace for another two months of restrictions under a new proclamation/ National State of Emergency, the measure is considered necessary to keep the current COVID-19 cases in the country low. For some concerned island residents, this extension of restrictions can affect small businesses even more, and they fear the number of persons seeking welfare assistance could increase. Heredia answered by saying that things might get tough, but he will do his best to assist his constituency.
In the meantime, if the National State of Emergency is extended via the House of Representatives and the Senate, a set of new regulations for Ambergris Caye are expected to be issued by the end of next week.
Follow The San Pedro Sun News on Twitter, become a fan on Facebook. Stay updated via RSS