Baby Daniel celebrates 1st Anniversary of his transplant
Friday, August 19th, 2011
His story reached many people and touched the hearts of all who heard it. Baby Daniel Estell was born with Biliary Atresia, a debilitating liver disease. As first-time parents Ilda Guerrero and Daniel Estell Sr. were faced with the daunting task of getting their son a transplant, residents of the community of San Pedro, as well as countrywide and abroad rallied to provide support.
The number one obstacle the young family faced was the lack of funding to pay for the high risk operation. As days slipped into weeks, friends of the young couple organized radiothons, raffles, food sales, activities and more to try and come up with as much money as possible to ensure that Baby Daniel would get the medical care he needed.
At first, the family tried to get medical treatment for Baby Daniel in the US. With lack of money holding them back, they were offered help in Colombia, South America. On August 18th, 2010, Baby Daniel received life-giving treatment from his doctors in Colombia.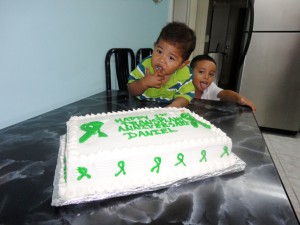 It's been exactly 1 year, 1 day since his life, and that of his family, changed. Mom Ilda shared some pictures of the cutie with The San Pedro Sun at the celebration that was held on Thursday, August 18, 2011. "[These] are the 3 best pictures I could take of him since he was really desperate to eat his cake..." said Ilda, "[and] there is a picture with his dad since we do not only celebrate baby Daniel, but also Daniel Sr. for being his life-saving Liver Donor!"
Baby Daniel and his family would like to extend a "BIG 'Thank you' to the community of San Pedro for all the support and help given to us last year when we were in desperate need."
Related Articles:
Baby Daniel's Family Says Thank You
Baby Daniel will receive treatment
Community Beach Party Fundraiser for Baby Daniel
Photo Gallery
Follow The San Pedro Sun News on Twitter, become a fan on Facebook. Stay updated via RSS