Baby Joannie Faridi Cortes needs your help
Tuesday, April 8th, 2014
Carmen Cortes and family are asking for financial supports from the San Pedro community to help her three-month-old child Joannie Faridi Cortes receive urgent medical attention. Joannie has been diagnosed with severe Retinopathy of prematurity, which has impaired the child's vision.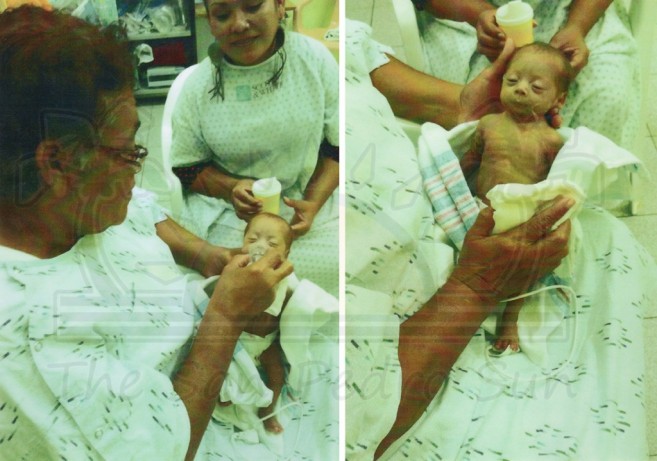 The baby girl has been referred to the Charles Retinal Institute in Memphis, Tennessee, USA, but the family has been unable to take her due to financial challenges.According to Cortes, Joannie was born prematurely, and as a result, was diagnosed with Retinopathy of prematurity (ROP). ROP is caused when abnormal blood vessels grow in the retina, the layer of nerve tissue in the eye that enables sight. The growth can cause the retina to detach from the back of the eye, leading to blindness. Some cases of ROP are mild and correct themselves, but others require surgery to prevent vision loss or blindness.
"She was taken to Guatemala but there was not much the doctors could have done for my little baby, because they were unable to do surgery for stage five ROP. I have been referred to a specialized medical facility in Memphis but I don't have the money," said Cortes. "Doctors believe that she has the possibility of seeing if the corrective measures are done now. It would really hurt me if my child cannot see because we don't have the finances to take her for medical attention."
So far, Cortes has contacted Dr. Jorge Calzada of the Charles Retinal Institute. Calzada has indicated that even though the child has stage five ROP, there is a possibility that she will be able to see if corrective surgery is performed. Dr. Calzada also explained that the surgery needs to be done urgently because time is a factor, and advised the family that the longer it takes to conduct surgery on the child, the condition worsens.
The total fees for the surgical procedure including doctor check-ups are estimated at US$8,520 in addition to flights (transportation) to and from the US. The family is planning a fundraiser at a date yet to be announced, but any member of the public who can assist the family is asked to call Carmen Cortes at 669-9259. Donors can also make direct contributions via Atlantic Bank account number 210745247.
Follow The San Pedro Sun News on Twitter, become a fan on Facebook. Stay updated via RSS