Wilmer Cartajena Reported Missing in San Pedro
Monday, April 2nd, 2012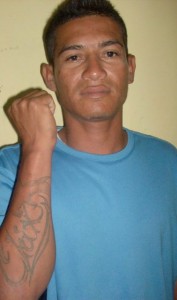 Police on Ambergris Caye are asking for public assistance in locating an islander. 27 year old Wilmer Cartajena, also known as Chix, went missing on March 24th. Cartajena, who lives in the Basil Jones area located some 12 miles north of San Pedro Town, was reported missing by his brother Oscar Cartajena on Sunday April 1st.
According to San Pedro Police, Cartajena was last seen on March 24th sometime between 9:30 and 10AM on the said date in the Boca del Rio area of San Pedro Town. Cartajena was seen near the bridge in a white boat along with four males of dark complexion, heading in a northerly direction along the eastern coastline of Ambergris Caye. He was last seen wearing a white T-shit, short pants and black Costa del Mar sunshades.
Police say Cartajena has three distinguishing tattoos; one on the right side of the neck with the name "Gloria," another on his back with the word "Angel" and a third on his right elbow with this nickname "Chix". Cartajena is described as being Hispanic of fair complexion, short black hair, slim built with medium height and brown eyes.
Authorities on the island have initiated an intensive search for Cartajena since he has been missing for the past ten days. Both the police and his family are concerned for his safety as there have been rumors circulating that someone was murdered on northern Ambergris Caye. San Pedro Police confirmed that they themselves have heard similar rumors and dispatched a team of investigators to comb the northern coastline of island. Police are following all angles and are asking the public to share any information that might possibly assist with their investigation.
In speaking with one of the family members, they explained that Wilmer would always keep in contact with them regardless of the distance. The family said that since the day he was last seen, Cartajena has not answered their calls, something he would never do. Anyone knowing any information that can assist the police regarding the whereabouts of Wilmer Cartajena is asked to call the nearest police station.
Follow The San Pedro Sun News on Twitter, become a fan on Facebook. Stay updated via RSS