Wilmer Cartajena missing for over 20 days and the family wants answers
Thursday, April 12th, 2012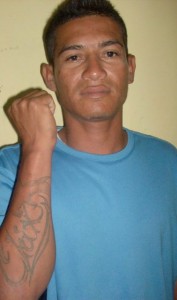 The Belize Police Department is still clueless and has no significant lead into the disappearance of 27 year old Wilmer Cartajena. The fisherman, who lived in the Basil Jones Area located some 12 miles north of San Pedro Town, was last seen on March 24th.  After 21 days of being missing San Pedro Police says that there has been "no solid lead."
A national bulletin with Cartajena's picture and a detail description has been circulating countrywide. "With no other information other than what the family told us (the Police), we have had no other lead from the general public," said Sergeant Basil Reyes of the San Pedro Police Station. The family told Police on April 1st that on March 24th sometime between 9:30AM and 10AM Cartajena was seen in the Boca del Rio area of San Pedro Town.  The family says that he was seen near the bridge in a white boat along with four males of dark complexion, heading in a northerly direction along the eastern coastline of Ambergris Caye and wearing a white T-shirt, short pants and black Costa del Mar sunshades.
The police describe Cartajena as having three distinguishing tattoos; one on the right side of the neck with the name "Gloria," another on his back with the word "Angel" and a third on his right elbow with this nickname "Chix".  Cartajena is of a Hispanic descent, fair complexion, has short black hair, slim built with medium height and brown eyes.
According to the Cartajena family, their desperation is growing and they are in a state of "uncertainty" and fear for the worse. "We are confused, uncertain fearful for his life but at the same time we are trying to be hopeful for good news. You can imagine how it feels knowing that a love one is missing and you know nothing of the person. Our family is devastated and we are simply looking for whatever answers" said one of the brothers of Cartajena.
San Pedro Police has organized several searches for Cartajena following vague leads but none has turned successful. The family and Police are pleading to the general public to share whatever information they have regarding Cartajena's disappearance. Anyone knowing any information that can assist the family and police regarding the whereabouts of Wilmer Cartajena is asked to call the nearest police station.  Cartajena becomes the third person to go mysteriously missing without being found since 2011 on Ambergris Caye.
Follow The San Pedro Sun News on Twitter, become a fan on Facebook. Stay updated via RSS