Human remains found in the Boca Ciega area of Ambergris Caye
Thursday, April 11th, 2013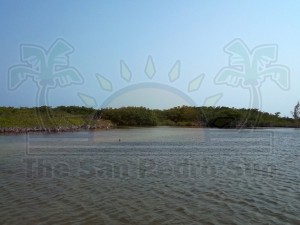 San Pedro Police have recovered the skeletal remains of a human adult. The almost complete skeleton was found in about three to four feet of water in the Boca Ciega area of Ambergris Caye. A team of investigators and police officers visited the area after receiving information about the remains from a local fisherman who came across the bones.
Officer in Charge of the San Pedro Police Formation Superintendent Luis Castellanos told The San Pedro Sun that sometime over the Easter vacation, a local fisherman who was on a fishing expedition with his family came across the bones under the water. Police said that they visited the area some three miles southwest of San Pedro Town on the leeward side of Ambergris Caye but their first search was unsuccessful. After speaking with the local fisherman, police officers were then taken
to the area on Wednesday April 10th where the remains were found.
According to Superintendent Castellanos, the bones were taken out of the sea after police officers dove and recovered the remains. The bones, including a complete skull with the jawbones and dentures, ribs, pelvic bones, vertebra and femurs, were all found together near a mangrove patch. "It will be a little difficult to establish the identity of the person but because of the size of the bones, we strongly believe it is that of an adult person," said Superintendent Castellanos.
The none-calcified bones will be taken to the forensic laboratory to see if the identity of the person can be established. According to Police, the families of missing people on the island will be contacted to collect hair samples, buccal swabs as well as medical and dental record to see if it matches that of the remains found. Of note is that since 2011, five people have gone missing on Ambergris Caye and there has been absolutely no trace of them since.
Follow The San Pedro Sun News on Twitter, become a fan on Facebook. Stay updated via RSS