Island students participate in annual children's rally
Monday, September 17th, 2012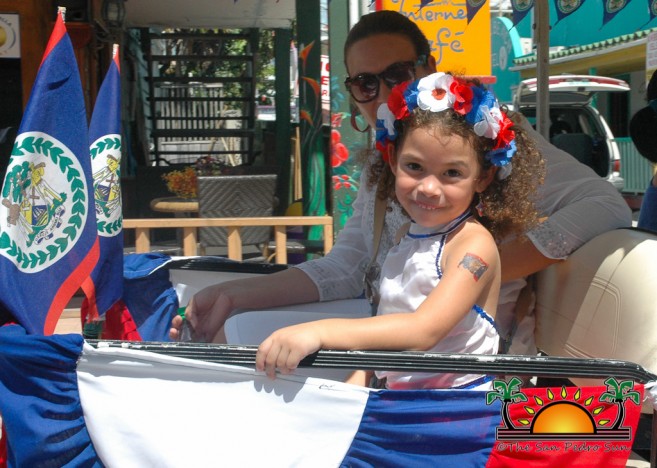 Preschools, primary and secondary schools countrywide participated in the annual children's rally organized by the Ministry of Education. The rally is a part of the September Celebration events. San Pedro was no exception as the island's schools came out in full force on Friday, September 14th.
Students along with their parents and teachers from all over the island assembled at the San Pedro Central Park for the short ceremony. Speaking to the parents, teachers and students at the San Pedro Central Park, the District Education Officer for Belize Rural South Miriam Codd said that the rally is a school day where the students learn to appreciate Belize through patriotism. Also speaking at the event was Guest Speaker Mayor Daniel Guerrero. "Let us try and revive this spirit of patriotism and pride which our forefathers had. Nowadays, we do not seem to have that love for country as they did. I encourage you to develop a sense of civic pride by respecting private and public properties, by not throwing garbage on the streets, by taking care of the
plants in the parks and on the beach, by having a clean beach, by respecting our elders, by respecting our national anthem and our Belizean flag," said the Mayor to the gathering.
The students were also encouraged to be like Belize's two national heroes. "Through the years, there have been numerous Belizeans patriots, heroes in our books, who led the struggle towards independence. Two of whom are the late Right Hon. George Cadle Price and the late Hon. Phillip Goldson. I encourage you our children to have the same spirit as our two national heroes," ended Mayor Guerrero.
There were several presentations by various schools, after which students were entertained by local musician Barrington Castillo. Following the short ceremony, the students paraded through the different streets of San Pedro where a few generous businesses lined up along the parade route to give the students water and juices to cool down from the hot sun. The San Pedro Ambergris Caye Annual Children's Rally and Parade was celebrated under the national September Celebration theme, "Many Faces, Many Dreams, One Goal - Celebrating Belize."
Photo Gallery
Follow The San Pedro Sun News on Twitter, become a fan on Facebook. Stay updated via RSS