Kent Gabourel wins DJ's Independence Day Cycling race
Wednesday, September 26th, 2012
Dimas James Guerrerro aka DJ has adopted the San Pedro Triathlon team and as such has started to raise much needed funds in preparation for national competitions. One of the first events organized was an Independence Day cycling race held on Friday September 21st where San Pedro tri-athlete, Kent Gabourel dominated.
According to DJ, he has seen how amazing this team is. He has taken note of their many accomplishments on a national level, representing San Pedro. And this is the reason why he decided to embark on organizing a committee to support and sponsor the team in every way needed.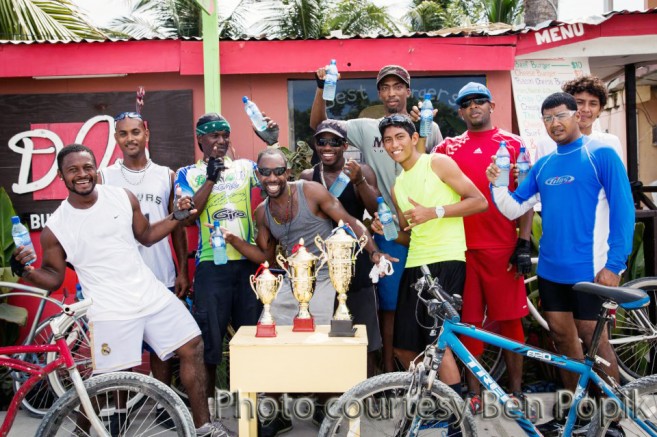 In an interview with The San Pedro Sun, Guerrerro stated, "The reason why we started to do this is because we are trying to raise some funds for the tri-athletes while promoting healthy living. Eventually we hope to have a committee that will be responsible for raising funds for the tri-athletes, to get them quality equipment and offset all other expenses they might incur while travelling to compete and represent the island. We plan on promoting more events so that these guys won't have to go around begging for money, so that they can go and represent us. The whole while we are promoting a healthier lifestyle through sports."
Entrance fee into the tournament was $20 and saw 12 participants competing. The race commenced sharply at 7am leaving from in front of DJ's Burgers and More, heading north bound to Grand Caribe. At Grand Caribe, the bikers turned and headed south back over the bridge, through town to about three miles south of the Airstrip, turning around at the intersection to the San Pedro Dump site south of Pelican Reef then back to DJ's. The entire route was approximately 12 miles.
Reaching the finish line first and taking home $250 cash, a trophy and round trip ticket courtesy of Tropic Air was tri-athlete Kent "Bob" Gabourel. In second place and taking home $150 cash, a trophy and round trip ticket courtesy of Tropic Air, was fellow tri-athlete Eric Donis. Veteran cyclist on San Pedro, Andrew Vasquez won third place, taking home a trophy, $100 cash and a bar tab at Caprice in the amount of $100.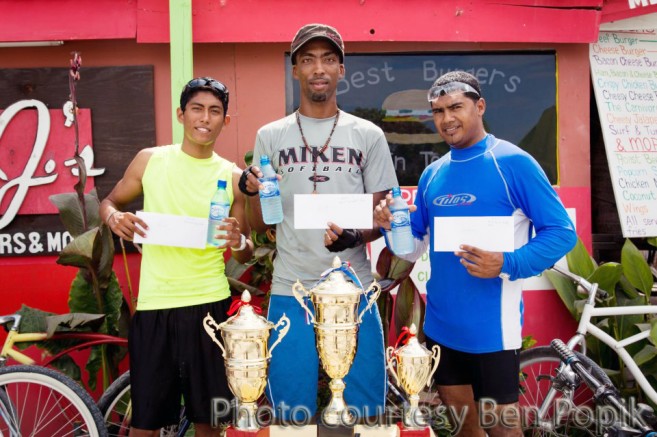 So now what's next? According to DJ, he is looking for individuals who wish to become members and help to support the tri-athletes. So far, working along with the tri-athletes, he is planning on a fun-run for sometime around the end of October or early November. There are also plans for a second cycling challenge scheduled for November 19th in conjunction with the Garifuna Settlement Day celebrations. Details of these activities will be published as the plans become concrete.
The organizers wish to give special thanks to head of the San Pedro traffic department Chris Nuñez and the traffic officers who were on time and extremely helpful in assuring that the race was done safely and effectively and to Gary Greif and Ben Popik. For more information on the activities of the San Pedro Tri-athletes or how you can help, feel free to contact DJ at 635-6158 or Kent Gabourel at 604-9013.
Follow The San Pedro Sun News on Twitter, become a fan on Facebook. Stay updated via RSS