Kent "Bob" Gabourel to be featured on BBC World News
Saturday, April 26th, 2014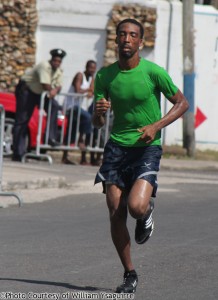 Belize's first ever triathlete to the 2014 Commonwealth Games, Kent "Bob" Gabourel will be featured on the British Broadcasting Corporation (BBC) World News on Wednesday April 30th. The islander was interviewed by a BBC television crew who was in Belize as part of the Queen's Baton Tour, which made a stop in the country ahead of the 20th Commonwealth Games.
Belize is amongst 71 Commonwealth countries and British territories that will participate in the competitions which will run from July 23rd to August 3rd in Glasgow, Scotland. One of the Belizean athletes participating in the 2014 Commonwealth Games is Gabourel, who will be competing in the Olympics Distance One-Man Triathlon.
According to BBC Sports reporter and television presenter Mark Beaumont, BBC has been featuring an athlete in each of the Commonwealth countries and British Territories where the Queen's Baton makes a stop. "Besides filming the Queen's Baton Relay, we are featuring athlete stories. There are 17 sports competed at the Commonwealth games and so we have a different focus and different athlete in each country we go to. The interesting part about filming Bob is not only that he is the first Belizean going to compete in triathlon, but the fact that he is doing a lot for the community, working with youngsters, getting them off the streets and into various sports. The program we are putting out on BBC World News has a sports interest but there is also a real culture interest. It is meeting people like Bob and meeting the next generation he is helping to inspire, that makes for real interesting television, and we want to share those stories with the bigger audience," explained Beaumont.

Gabourel is Belize's rising triathlete who has won the National Triathlon competition (September of 2013) amongst other national competitions. "I have come a long way growing up in San Pedro, and I think it is finally paying off for me. I am finally able to show the country what I am capable of doing. Everyone knows that I love working with young people. I want to be able to show the young and upcoming athletes that playing sports by itself is an achievement because it makes you a different and better person," commented Gabourel.

In the triathlon competition in Glasgow, Gabourel will perform in three disciplines – swimming, cycling and running– testing his overall fitness, skill and endurance against some of the world's most talented athletes. The challenge consists of a 1,500-metre open-water swim before switching to a 40-kilometre road cycle and finishes with a challenging 10-kilometre run.
Beaumont said that just the fact that Gabourel is going to the Commonwealth Games is huge; however, he explained that the Belizean athlete is in a very unique position. "I think he has a very unique situation with the way he trains. There are no big paved roads, so the fact that he is training to race some of the world's best triathletes on customized beach cruisers and the fact that he is training out in the Caribbean Sea is unique. He will be competing in Glasgow in the summer in road race conditions and very cold water. When it comes to the running, again he doesn't have the facilities that a lot of the world's best athletes have. However he has a huge amount of experience and determination, so his story is fascinating. I don't think there will be anyone else going to the 2014 Commonwealth Games facing the conditions Bob does, in terms of how he is training on the island, so he has a very interesting story to tell," added Beaumont, a former athlete himself.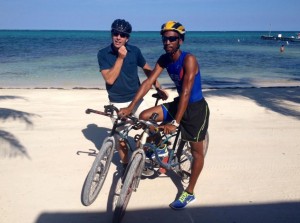 Gabourel has been instrumental in starting triathlon competitions on Ambergris Caye with young teenagers. In addition, he has also initiated cycling activities on the island and has been actively involved in football for many years, having played with the local semi-pro football club. While filming Gabourel, the BBC television crew also spoke to a number of other young athletes who Gabourel has inspired.
The BBC World News weekly program called the Queen's Baton Relay featuring Belizean Kent Gabourel will be aired on Wednesday April 30th and can be watched on streaming video at http://www.bbc.co.uk/tv.
Photo Credit Info – Presenter, BBC coverage of the Queen's Baton Relay
bbc.co.uk/queensbatonrelay
@BBCMarkBeaumont
Follow The San Pedro Sun News on Twitter, become a fan on Facebook. Stay updated via RSS