San Pedro Lions host Annual Senior Citizens Christmas Party
Saturday, December 22nd, 2012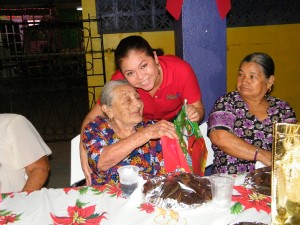 With much Christmas cheer, The San Pedro Lions Club alongside the San Pedro Branch of The Belize Bank hosted the senior citizens of San Pedro to an annual Christmas Party. The gathering took place at the Lions' Den on December 19th. The attendance was great, one of the largest Senior Citizen Parties of recent memory – but it was the happy faces of those present that made the night spectacular.
The senior revelers enjoyed drinks and a three course meal, which included a most delicious turkey dinner with a dessert of flan. As expected, the annual event brought out the seniors of the community dressed in their season's best, ready to party into the night. In speaking to the President of the San Pedro Lions Club Mel Spain, she explained that this is only one of the many ways the Lions Club gives back to the community. She also asks for the continued support of the public in attending the regular Friday Bingo Night which helps raise needed funds that the club use to finance their events such as the Senior Citizen Dinner and the annual Children's Christmas Party.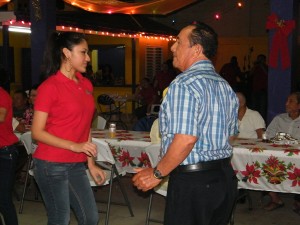 While the San Pedro Lions Club provided the food, drinks and entertainment, The Belize Bank staff members gave their time and also donated gift bags for the guests. San Pedro Branch Manager of the Belize Bank Maria Cervantes, said that the event livens up the spirits of the elderly and that it is something the seniors enjoy and are grateful for. Cervantes added that the Belize Bank Limited is glad to continue its annual partnership with the San Pedro Lions Club to bring seasonal joy to the community seniors. Cervantes also took the opportunity to highlight that in January the San Pedro Branch of the Belize Bank will be tackling a project geared at renovating the sidewalk near the San Pedro Roman Catholic School as a community project.
The seniors were treated to live piano music during dinner and thereafter, danced the night away with music provided by the Rompe Raja Band. The senior citizens happily coupled off with Lion Members and the staff of the Belize Bank and danced to rhythm of Belizeans Christmas Bruk-down music. The San Pedro Lions Club has two more events before the end of the year, the Annual Children's Christmas Party on December 21, 2012 and the Annual New Year's Eve Dance. We thank them for their continued efforts to spread more cheer during this most festive of seasons, and look forward to next year's party already!
Photo Gallery
Follow The San Pedro Sun News on Twitter, become a fan on Facebook. Stay updated via RSS