Bistro Mestizo hosts and wins 2013's first Saga cook-off
Wednesday, January 30th, 2013
The Saga Humane Society in San Pedro held its first cook-off of the new year, and hosting the ever-popular event was Bistro Mestizo. The event is organized monthly to help raise money which directly assists Saga in offsetting operational expenses for the island's only humane society. Wednesday, January 23rd saw 13 competitors, showcasing their signature appetizers served for hungry and enthusiastic attendees.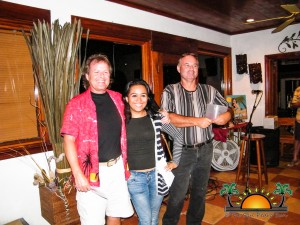 Appetizers ranged from mini pizzas to brochette to fish ceviche, all tempting and delicious. For the minimal contribution of $10, those in attendance got to sample all the food and cast a vote for the favorite entry. It did not take much for attendees to cast their votes, and by the end of the night, host restaurant Bistro Mestizo won with their fish ceviche appetizer. Danny Cann placed second with his Tuscan brochette with bacon and third place was captured by Elizabeth Bertfche for her ham and cheese poppers. The proprietors of Bistro Mestizo decided to donate their prize, an MP3 player, to a cancer victim to use while travelling and recovering from treatment.
According to Saga, the year's first cook-off was a great success, and plans are already underway to identify the venue and date for the second event in February. Saga Humane Society takes the opportunity to thank all those who contributed to the event and the raffle that followed. Special thanks go to Bistro Mestizo for hosting the event.
Photo Gallery
Follow The San Pedro Sun News on Twitter, become a fan on Facebook. Stay updated via RSS