Saga Humane Society announces statistics of recent dog roundups and community response
Wednesday, October 3rd, 2012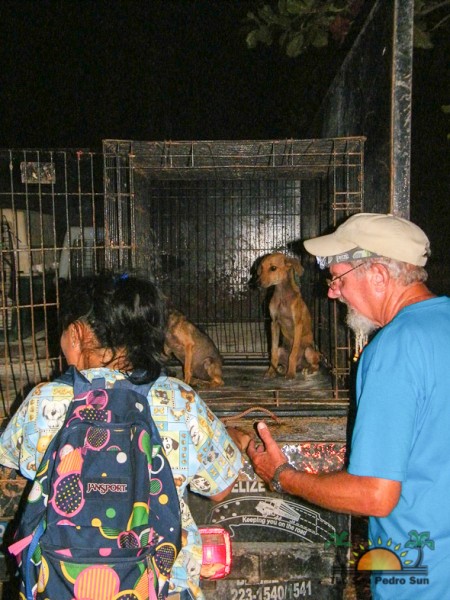 Press Release – October 2, 2012, Saga Humane Society – Saga Humane Society wishes to report the results of the Dog Roundup Campaign recently started in cooperation with the San Pedro Town Council (SPTC) and His Worship Mayor Daniel Guerrero.
The short term goal was to alleviate the need of SPTC to eliminate roaming/stray dogs by use of strychnine poison, mostly under pressure of local business owners and others to keep the sidewalks and beaches free of dog waste. Though this strychnine method is available by law, all would agree it is cruel and inhumane, causing the animals to suffer and die in great pain.
Multiple scheduled roundups were conducted with the help of SPTC personnel and trucks, and additional random pickups were done by Saga personnel alone. Saga Humane Society brought in 61 dogs. Ten dogs were returned to their owners after a $50 fine was collected by SPTC, and by law to be turned over to Saga for the expense of keeping the dogs. After the three day holding period, 41 dogs were euthanized humanely by injection (bringing the total to 73 with the 32 put down by SPTC previously). The rest of the dogs that were picked up are in adoption at Saga and looking for a loving home.
Saga is very pleased and proud to report that the community has made great progress since this campaign began – many more owners are doing their part by keeping their dogs from wandering loose, by walking their dogs with collars and on leashes, and by cleaning up after their dog on the street, on the beach and in other public places. It is very important that everyone in the community continues to practice these habits and encourage their neighbors to do so to create a clean environment and avoid the pressure on the Town to poison dogs.
It is also really important that visible members of the community make a great example to the public by doing their part, especially people in positions of public service, business owners, and people who live on the beachfront.
Saga's costs to implement this campaign has totaled approximately $3,500 in capital costs to improve the shelter, and another $1,200 in added employee and food costs (Saga's food costs more than double while the roundups dogs are at the shelter). The additional dogs in adoption continue to add costs as well. It costs approximately $100 to make a dog adoptable (medication, vaccination and spay/neuter), plus about $12 to feed each dog per week. With 10 dogs more than usual, this is another $1,000 plus $120 weekly in food costs, not to mention other treatments.
Saga Humane Society has a meeting scheduled this week with the Mayor and SPTC to discuss the results of the roundups and where we go from here. We are very optimistic that the Mayor and SPTC will join in the goals of further encouraging owner responsibility and increasing access to low/no cost spays and neuters as the most useful in the long run.
If we all work to ensure dogs will not have puppies that will have no homes, and to care for and clean up after the dogs we have now, we can make the difference! For more information please contact Ariadne Trejo at 670-9986.
Follow The San Pedro Sun News on Twitter, become a fan on Facebook. Stay updated via RSS