Saga says Thanks You for successful November Rice Cook-Off
Sunday, December 1st, 2013
Dear Editor,
The SAGA Humane Society would like to give a big thanks to Carlo & Ernie's Runway Bar and their great staff for hosting our Rice Cook-Off  Thursday November 21st. The night turned out to be a lucky and dry day for the Saga HS and our supporters. There was a great turnout of visitors and locals who enjoyed all the fine rice dishes presented. The event raised needed funds to cover the expenses to SNIP over 20 low income island pets.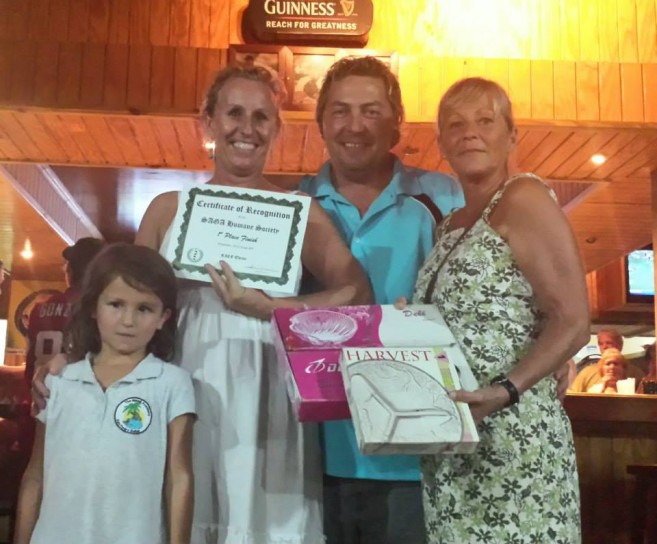 After the votes were tallied, Melt Café took first place with Easter Wrap. Second place went to Laura Sutton with Stuffed Rice Balls and third place was won by Cindy Firth with her Shrimp Risotto. The other fine rice dishes were: Shrimp in Rice – Letty Hernandez, Turkish Rice – Carolina Zapata, Rice Pudding with Caramel Sauce – Runway Bar, Spicy Jamaica Rice- Carolina Zapata, Mushroom Carrot Rice topped with Caribbean Chicken – Runway Bar. We are grateful to all the cooks for their entries and for their support.
We had some first-rate raffle prizes, Pepperoni's Pizza gift certificate, Caliente gift certificate, Red Ginger gift certificate, and Picasso Spirits. We appreciate the generous support from our local business community.
Such events would not be possible if not for the hard work of our volunteers. Thank you for your dedication; Rene Steinmetz, Carolina Zapata , Iliana Paj, Katia Marin, Janina, Jacqueline Cervoni, and Sandy Rigby.
Saga Humane Society would like to thank everyone for their continued support. Carlo & Ernie know It's Hip to SNIP!
/s/ SAGA Humane Society
Follow The San Pedro Sun News on Twitter, become a fan on Facebook. Stay updated via RSS