HGTV Films Heather Beck's International House hunt on Ambergris Caye
Monday, August 12th, 2013
It's one of the most popular series on Home and Garden Television (HGTV), and House Hunters International has followed potential homeowners all over the globe as they search for that place to call home. Belize – and Ambergris Caye – has been highlighted a few times on the show, and it was once again time for La Isla Bonita to be featured as HGTV was back on the island. The show will feature long-time visitor and Saga Humane Society Board member Heather Beck as she puts her roots down and buys a home on the island.
One of the special highlights of the episode will be Saga's monthly cook-off. Held at Average Joe's bar on August 8th, the appetizer cook-off saw an incredible turnout, with tickets selling out within minutes. Of course, everyone was there to support Saga while indulging in delicious appetizers – and if they had a chance to be on TV, well, it was an added bonus.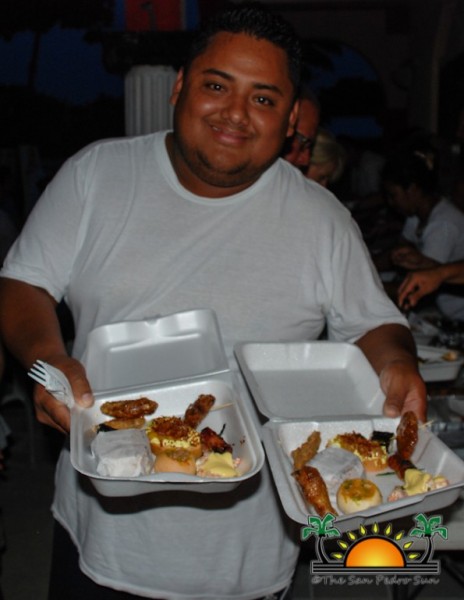 There were eight entries for August's cook-off, and the winning appetizer was hard to pick, but in the end, first prize went to Alexis Gonzalez. Alexis created delicious bacon-wrapped shrimp. Second place went to Lonestar Grill, who brought in their yummy curried shrimp baguette with mango chutney. Tied for third place was Feliz Bar's bacon wrapped wienies in a pineapple BBQ sauce and Black Orchid Restaurant's Philly Bites. The other tasty entries were Ham & Cheese Poppers by Elizabeth Bertsche, Sushi by Sharon Metcalfe, Chicken Nuggets by Carolina Gonzalez, Chipotle Mango wings and Tamarind Wings by Geraldine (of AJ's).
Thanks to the cook-off support and raffles held through the night, Saga was able to raise enough funds to be able to offer 30 FREE spay/neuters to low-income pets through Operation SNIP. Saga would like to thank everyone who was involved in making this event possible: Average Joe's for hosting, HGTV's film crew, and of course to all the supporters who came by to purchase tickets and be a part of a great evening. To all the chefs, a big thank you for your efforts and constant support! To the volunteers who manned the stations or sold raffle/food ticketsRenee Steinmetz, Paige Marie, Alice Corrigan, Iliana Paj, Carolina Gonzalez, Ingrid Lima, Geovanni Martinez, Janina Canales, Heather Smith, Grant Crimmins and Valentino for playing great music – a BIG THANK YOU!!
Remember, it is HIP to SNIP!!
Photo Gallery
Follow The San Pedro Sun News on Twitter, become a fan on Facebook. Stay updated via RSS