Saga announces October SNIP-a-thon
Saturday, October 5th, 2013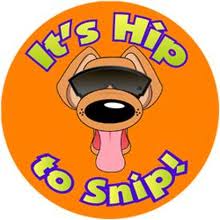 During the month of October Saga Humane Society will be hosting two different visiting veterinary groups to hold free spay/neuter clinics for the low income residents of Ambergris Caye. In addition to the free spay/neuters the teams will be doing additional canine distemper virus (CDV) vaccinations, and dog training sessions for public. The goal is to sterilize over 300 island pets during the month.
Helping Paws Across Borders will be in San Pedro October 7-10. They will be bringing a team of 15 including veterinarians, vet techs and dog trainers. This group will focus their efforts on the neighborhoods of DFC, San Juan and Downtown. Because of limited space at the Saga clinic, a MASH (Mobile Animals Surgical Hospital) type clinic will be held in DFC at Mrs. Adaly Ayuso's property. This will allow the medical teams to be closer to the animals and save the time and expense of transportation to the Saga clinic. Helping Paws Across Borders' stated goal is to "Reach out to other countries and make a difference in the lives of abused and neglected companion animals. Supply medicine and medical equipment to local Animal Shelters. To educate local clinic volunteer's in shelter medicine. Stop overpopulation of companion animals in undeveloped countries. Be available to assist in spay and neuter clinics when and where we might be needed. Interacting with the local children and making animal welfare educational material available to them."
Hopkins Humane Society will be in San Pedro October 18-21. They will be bringing a team including veterinarians and vet techs. This group will focus on San Mateo. More details to come soon.
Saga encourages all residents to come out and get their pets spayed/neutered. Dogs and cats that have been spayed/neutered live happier, healthier and longer lives. This is also an effort to control the stray population on the island. By sterilizing pets, this effort will help the community take the necessary steps to control the over population of domestic animals on the island. So come on out and remember, It's Hip to Snip!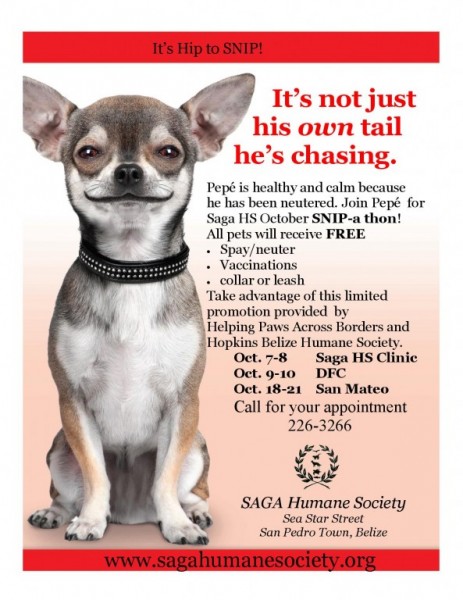 Follow The San Pedro Sun News on Twitter, become a fan on Facebook. Stay updated via RSS