Letter to the Editor: Helping Paws Across Borders says Thank You
Sunday, October 27th, 2013
Dear Editor,
I am writing you from New Mexico, USA where Helping Paws across Borders is located. My organization was just recently in and around San Pedro for a weeklong spay and neuter campaign hosted by Saga.
I wanted to say thank you to all of the local businesses and people that welcomed Helping Paws across Borders volunteer team with such kindness and generosity.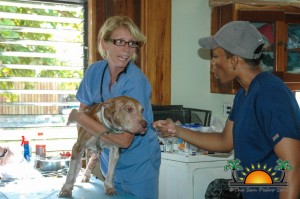 I wanted to let you know that your community went above and beyond to assist us.
I would like to just mention a few of the businesses that helped with this venture.
Exotic Caye Resort, The Melt (incredible), Road Kill Bar, Fido's, Wet Willy's, Captain Morgan's, Ultimate Golf Carts, Belize Golf Carts, Monchos Golf Carts, Ramon's kitchen staff, the owners of the wonderful rental house, the wonderful people of San Pedro, the community of DFC, the local volunteers that came in to help, Caye Caulker Humane Society and of course Saga Humane Society.
Without all of the support from everyone none of this could have taken place.
Helping Paws across Borders was able to spay, neuter, vaccinate and medically treat 308 animals in your community and on Caye Caulker.
Thank you again for your hospitality San Pedro and Saga.
/s/ Angela Cherry
Founder/President Helping Paws across Borders
www.helping-paws-across-borders.net
https://www.facebook.com/HelpingPawsAcrossBorders
Follow The San Pedro Sun News on Twitter, become a fan on Facebook. Stay updated via RSS