Knowledge for People brings Autism Awareness to San Pedro
Friday, December 6th, 2013
Five volunteers from Knowledge for People: Autism Education Around the World (KFP), an autism awareness organization, traveled to Ambergris Caye to educate parents and teachers on the sensitive topic of Autism. Autism, also known as Autism Spectrum Disorder (ASD), is a complex disorder of the brain development. It can affect as many as one out of every 150 children born, and impairs social interaction, verbal and nonverbal communication and repetitive behaviors.
The volunteer group consisted of four autism specialists, Elizabeth Kleine, Reyna Sigurdson, Maci Spica and Crystal Hansen, along with their media director, Brayden Harp.
While in San Pedro, the team visited several preschools and primary schools to assess their capability to cope with an autistic child. The team also provided a workshop on Thursday, November 28th, open to all teachers and parents on ways to interact and develop essential life skills with an autistic child.

The workshop stressed the importance of early diagnosis and the need to be properly educated on autism.
Autism is a complex disorder that requires several tests and screenings before a child is diagnosed with autism, but there are several signs that parents can look for that may indicate the presence of autism. Every child with autism has problems in three areas: communication (both verbally and non-verbally), socialization (how they relate to others) and problem solving. Some signs of autism in a toddler include: lack of appropriate eye contact with parents, no joyful or loving expressions towards others, not sharing with others, lack of response to name, lack of showing gestures, lack of coordination of nonverbal communication and no or limited speech by the age of three. For a parent, these "red flags" indicate that your child should be evaluated and screened by a specialist to ensure that he/she is on the right developmental path.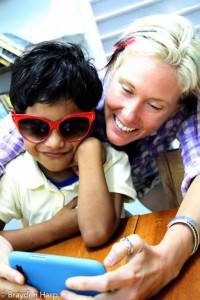 Many people believe that a child with autism is not capable of having a productive life in society, but that theory is only a myth. The fact is that with early detection and proper care and support, a child with autism can grow up into a successful citizen and partake in social activities. One such example the team mentioned was Temple Grandin, an American doctor of animal science and professor at Colorado State University in the US.
Grandin was diagnosed with autism at the age of two. Although faced with speech delay and other disabilities, Grandin was able to overcome the challenges, becoming one of the most influential autism activist and role models to autistic children around the world. On her long list of awards and achievements, Grandin can also add author, having published several books already. Grandin has enriched millions of lives in the autistic community, showing that it can be overcome.
In the workshop, the team demonstrated several specialized methods of teaching children with autism, as they do not respond the same way as regular children. Their brain takes longer to process thoughts, directions and commands. Using pictures instead of words often helps autistic children grasp messages faster and easier. Many people with autism are visual thinkers, so instructions given to them need to be accompanied with images of the actions.
Children with autism need to have a structured day, and parents and teachers need to be firm but gentle in interacting with the child. These children are often unable to understand the consequences of their actions, so punishment is likely to make behavior worse and cause more stress for both parent and child. The best way to tackle behavior issues is for parents and teachers to find the source of istress in an effort to eliminate the source of the tantrums and "bad" behavior.
The volunteers also explained the importance of starting an initiative to form an autism center here in Belize. Those who attended the workshop, which included the entire teaching staff of Ambergris Caye Elementary School (ACES) and other concerned parents, will be corresponding with the KFP volunteers to have follow up sessions and further autism training in San Pedro.

KFP runs entirely on volunteers' time and donations. Their goal is to give individuals and communities a greater understanding of autism through outreach, education, and support programs or activities. In many parts of the world, there is a very limited understanding of autism. Developing countries such as Belize lack adequate resources and are often unaware that such disorders exist, or even prefer to stay silent due to the fear of what others will say. KFP aims to break these barriers and provide education and support to those who request it so that these communities have a greater understanding of autism, its effects and how to manage it. To learn more about the group visit www.knowledgeforpeople.com. For parents interested in finding out whether their child is at risk of having autism, take the Modified Checklist for Autism in Toddlers (M-CHAT) at http://www.autismspeaks.org/what-autism/diagnosis/mchat. M-Chat is a scientifically validated tool for screening children between 16 and 30 months of age to assess their risk for autism.
The volunteers:
Elizabeth Kleine is the Executive Director of KFP and has been working with autistic children for ten years. Elizabeth has a bachelor's degree in Psychology from Fordham University and a master's degree in Mental Health Counseling from Antioch University in Seattle, USA. Her past experience includes Teaching Assistant Manager, Autism Therapist at Kindering (a nonprofit neuro developmental center), and Clinical Research Associate at Seattle Children's Hospital. "My primary focus has been play based social engagement and in-home parent coaching, social skills and general mental health counseling," said Elizabeth.
Reyna Sigurdson has been working with individuals with autism for over ten years, first as a special education teacher and more recently, as an autism consultant in the state of Alaska, USA. She received her bachelors and masters degrees in writing and education from Southern Oregon University, and recently obtained a master's in special education with an autism specialization from the University of Oregon. Reyna served as a United States Peace Corps Volunteer from 2006 to 2008 in the Philippines, and assisted provincial special education programs and children with disabilities. "I became involved with KFP through a co-worker, and was excited to join with the organization to make the trip to Belize," said Reyna.
Maci Spica has been working in the field of autism education for seven years; she is a licensed special education teacher with a specialization in behavior modification and functional communication training. Currently she is working as an autism specialist for Houston Independent School District and in finishing supervision to become a board certified behavior analyst. "I live for my work in Autism Education and enjoyed working with all of the caring professionals and families in San Pedro. Looking forward to our return," said Maci.
Crystal Hansen is a licensed specialist in School Psychology for over ten years. She received her master's in School Psychology from the University of North Texas. Her passion throughout her career has been to provide appropriate evaluations for children suspected of having autism spectrum disorders. More recently she has been interested in providing support and training to teachers and parents. She is also interested in social skills support for individuals of all ages with autism. "I became involved with KFP, through a friend and colleague. I jumped at the opportunity to support a community in a different phase of educating people with autism spectrum disorders," said Crystal.
Brayden Harp has his bachelor's degree in Fine Arts and has been working with KFP for two years.
Photo Gallery
Please help support Local Journalism in Belize
For the first time in the history of the island's community newspaper, The San Pedro Sun is appealing to their thousands of readers to help support the paper during the COVID-19 pandemic. Since 1991 we have tirelessly provided vital local and national news. Now, more than ever, our community depends on us for trustworthy reporting, but our hard work comes with a cost. We need your support to keep delivering the news you rely on each and every day. Every reader contribution, however big or small, is so valuable. Please support us by making a contribution.
Click to Donate
Follow The San Pedro Sun News on Twitter, become a fan on Facebook. Stay updated via RSS