ACES hosts Disability Awareness Workshop
Thursday, November 27th, 2014
On Thursday November 20th, Ambergris Caye Elementary School (ACES) hosted a Disability Awareness Workshop geared towards working with children with special needs. Teachers from various schools across the island attended the evening workshop, and the event was also open to parents living with children with special needs.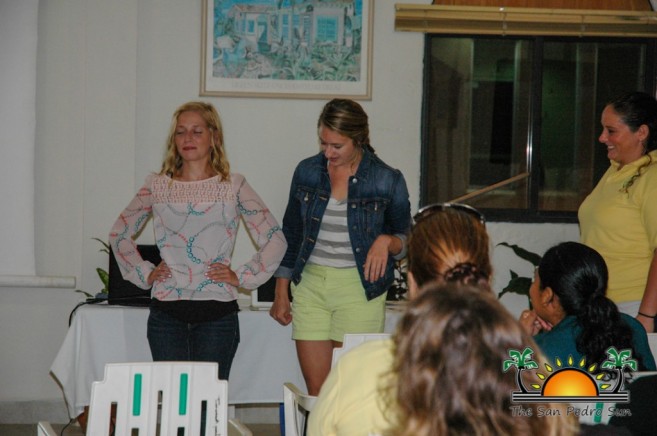 The presentation was led by Sarah Freudenberg, special needs teacher at ACES. While Sarah works mainly with children with Autism Spectrum Disorder (ASD), a brain development disorder, her presentation encompassed a range of impairments and disabilities that affect children. This list included disorders and impairments such as ASD, Communication Disorders, Learning Disabilities such as dyslexia, Intellectual Disability (ID), physical disabilities, hearing impairments and vision impairments. She then presented methods that parents and teachers can adopt to better communicate with such children.
ASD can normally be detected by parents and physicians within the first three years of life, after children have missed developmental milestones. For those affected, it means difficulty in verbal communication, ignoring lights, moving objects and people, lack of displaying affection, ignoring physical contact and difficulty interacting socially. Communication disorders can be detected by means of observation; those affected normally have limited speech capabilities or are generally mute. While communicating with children or adults affected by such disorders may be difficult, it certainly is not impossible. Methods such as sign language, gestures, communication cards/ boards, visual cards or devices such as tablets can be used to make communicating and learning a less difficult experience.
Freudenberg went on to present on Learning Disabilities. Mentioned were dysgraphia, aphasia, dyscalculia, and dyslexia, which all can range from mild to severe. These disabilities affect the way a child may comprehend reading, perform mathematical calculations, problem solving, and written expression. When diagnosing a learning disability, a physician works with the child to determine exactly what that disability is. The physician then pinpoints the child's strengths and weaknesses, and correlates that information to the parent. The parent should then work along with the teacher to learn and develop strategies best fit for their child's education. Another common disability is Intellectual Disability (ID). ID was once referred to as mental retardation or cognitive disability. Those affected often portray a lack of basic skills and a below average mental ability. While affected children possess the ability to learn skills, they do so at a much slower pace than the average peer.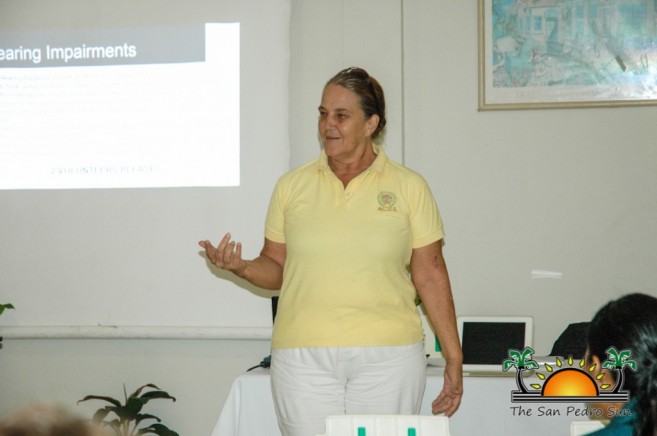 In addition to the disabilities mentioned, teachers present were also briefed on hearing impairments and vision impairments, and were given tips on how to work along with such special needs children. Freudenberg highlighted that it is not impossible for children affected by disabilities and impairments to learn. She emphasized the importance for parents and teachers to set goals for their children, and to work along with them to make sure these goals are met. Of course she encouraged monitoring and rewarding children's progress.
At ACES Freudenberg works closely with disabled children and develops strategies fit for effective learning. She explains that while these children may not get through the average multi- subject curriculum, there are gradual educational milestones set for each one, and that is what they work towards learning.
For more information please contact Freudenberg at ACES.
Follow The San Pedro Sun News on Twitter, become a fan on Facebook. Stay updated via RSS