Editorial – Up in smoke: fireworks or potholes?
Saturday, January 11th, 2014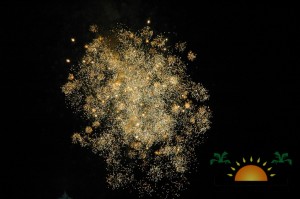 Kabam! The New Years' night exploded with colorful plumes of bright lights and tendrils of smoke. Ohhhh sounded the crowd that lined the beach along San Pedro Town under the Caribbean sky. Ahhhh they exclaimed as their faces lit up with the glow of bursting fireworks. Yeahhh they shouted as teams of orchestrated eruptions detonated above them! We all marveled at the evening performance of pyrotechnics and passionately praised the perfect end to 2013 while ushering in 2014.
It sure was a fun night, but as I waded through the ankle-deep mud pool in front of my gate for the umpteenth time in the last six months I weighed the question…what is more important, extravagant fireworks or filling potholes…the scale drastically tipped towards potholes. Call me a kill-joy, aside from a handful of small children and dogs who find them terrifying, who DOESN'T love fireworks? On the other hand, who loves crappy roads?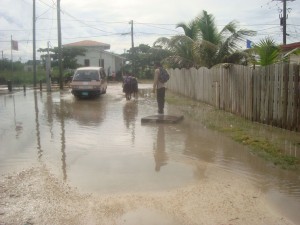 Troubled with this question I unofficially surveyed my friends and colleagues who were all under the impression that the fireworks were donated each year to San Pedro Town by our Mexican neighbors, but after a quick call to Town Council the Mayor confirmed that indeed it was the tax payers who footed the bill for the fireworks extravaganza. I then unofficially surveyed the Internet and concluded that the average 30-minute firework show costs from $20,000 to $50,000US.
Although I don't know the actual cost of our New Year's Extravaganza, I still have to wonder, was it fiscally responsible, when our roads go neglected to literally burn our money elsewhere? What will our guests to the island remember longer, the fireworks or the challenges of traveling from one side of town to the next? Will their interest in returning to La Isla go up in smoke?
Of course the community looks forward to fireworks on New Year's Eve, and I'm not saying we should have gone without a sky illuminated with pretty explosions, but half as many would have been just as nice. I can't imagine anyone casting blame on a Town Council that is looking to get more 'bang for their buck'. The cost of bad roads affects us all, be it the added expense of maintaining our cabs, carts, bikes or bodies as we endure the more than bumpy, sloppy ride when going about our lives to the businesses who suffer due to poor accessibility to their establishments.
The explosive cost of celebrating New Year's Eve on La Isla may have been enjoyed at the moment…but the pretty glow has faded over our ruined streets.
Follow The San Pedro Sun News on Twitter, become a fan on Facebook. Stay updated via RSS