Sir Barry Bowen Bridge reopens after urgent repairs
Friday, January 17th, 2014
The Sir Barry Bowen Bridge in the Boca del Rio Area of San Pedro Town has been officially reopened after being damaged by the excessive rains. Water had infiltrated the foundation at the northern foot of the bridge, forcing authorities to close off a section to conduct urgent repairs. Those repairs were done by Medina's Construction, and after eight days, the bridge was re-opened on Thursday January 16th.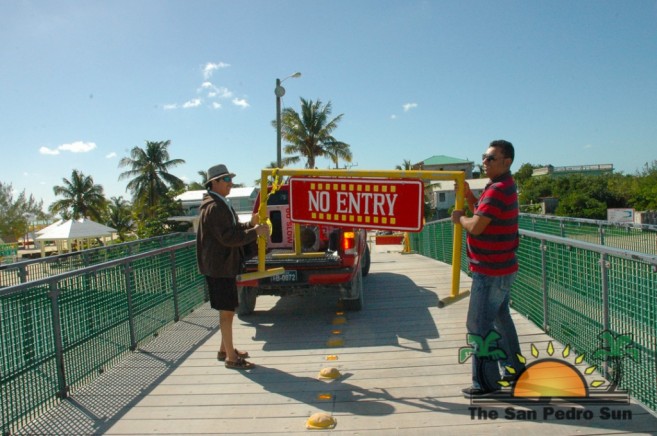 Flanked by members of his council, Mayor of San Pedro Town Daniel Guerrero opened the bridge to traffic on Thursday morning opening both lanes of the bridge. Guerrero indicated that the bridge was forced to close down by sections, after an urgent inspection was conducted following the constant rains. The inspection showed that water had filtered into the basement of the foundation. The force of the water washed the compact material inside the base, leaving part of the concrete materials and cobble stones suspended in the air. "If we had not noticed it on time, it could have caused a major accident. Perhaps, someone could have been hurt or killed," said the Mayor.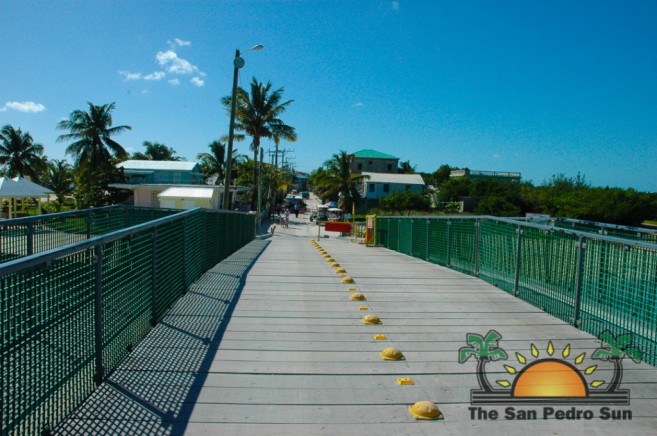 The urgent repairs included the reinforcement of the basement with concrete material, making it difficult to be washed away in the future. The work to have the bridge fixed, which linked the north and south of island, cost approximately $13,000. According to Mayor Guerrero, in the slow tourism season, the council will be reinforcing the ramps leading to the bridge on both sides with layers of concrete to make it even stronger.
While it was initially only open to carts and small motor vehicles, effective 6PM on Friday January 17th, the bridge is open to all forms of vehicular traffic.
Follow The San Pedro Sun News on Twitter, become a fan on Facebook. Stay updated via RSS