Stranded Loggerhead Turtle being treated on Ambergris Caye
Thursday, March 6th, 2014
On Saturday, February 22nd a female Loggerhead turtle was found stranded in a stretch of beach in the Maya Beach Area of the Placencia Peninsula by a tourist from Minnesota, USA. The turtle was observed to be severely dehydrated and in poor physical condition. Authorities were called on scene and the turtle was transported to a nearby resort until arrangements could be made to transport it to the Ambergris Caye Marine Turtle Program rehab center at Hol Chan Marine Reserve.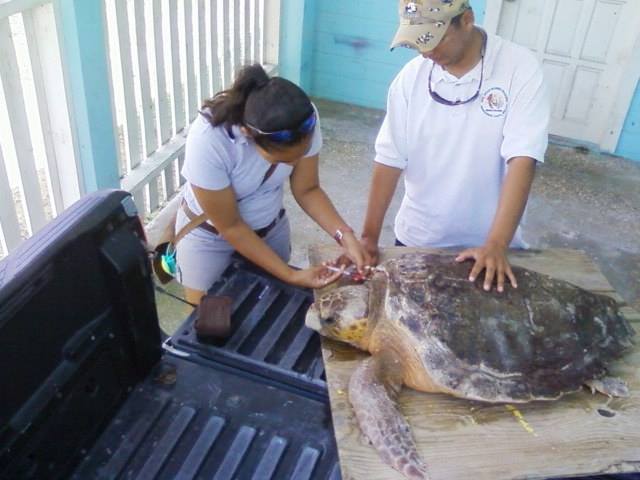 Further investigation revealed that the turtle had actually been sighted from Thursday, February 13th off the beach in the same area. The turtle was released back to the sea, but washed up again. On Wednesday, February 26th the turtle arrived in San Pedro Town still in poor health. Biologist and staff of Hol Chan Marine Reserve observed that the turtle, later named Ellen, had no apparent cuts or apparent damage to its physical composition. Biologist believed that Ellen may have been suffering of internal an illness.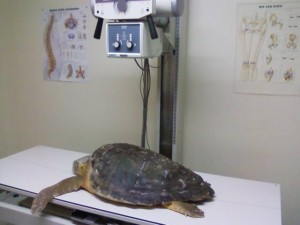 In order to properly diagnose her, an X-ray was performed at Los Pinos Medical Center. According to biologist Kirah Foreman, the X-ray revealed that there is a foreign object in the turtle's intestine that is causing severe infractions. "We still do not know if the turtle will survive. It is still weak and there hasn't been any significant change in her health since she was brought here. She has no apparent cuts or visible damages and the X-ray shows that a foreign object is jammed in the turtle's intestine causing it to be ill. We at Ambergris Caye Marine Turtle Program are trying to find a way to save her and release her back to the sea when she heals," said Foreman. Veterinarian Orlando Baptist of Saga Humane Society has been treating Ellen with a series of vitamins, saline drips for hydration and dextrose (a form of glucose).
The turtle is being held under observation and all measures to ensure its full rehabilitation will be taken. The public is asked to assist in donations to purchase saline and dextrose as they are relatively expensive.

The Ambergris Caye Marine Turtle Program is also caring for five juvenile turtles that were found stranded. The public is encouraged to report and stranded or wounded turtles to relevant authorities immediately. Hol Chan Marine Reserve can be contacted at phone number 226-2247 or email [email protected]. Officials have stated that sea turtle strandings are common in this weather condition.
Follow The San Pedro Sun News on Twitter, become a fan on Facebook. Stay updated via RSS