Less turtle nests but better hatch rate on Ambergris Caye
Monday, December 22nd, 2014
Less turtles nested along the beaches on Ambergris Caye in 2014, but the hatching success has been one of the best over the past three years. That is the result of the 2014 Turtle Report compiled by the Ambergris Caye Marine Turtle Monitoring Program at Hol Chan Marine Reserve. The turtle nesting season ran from April – when authorities reported the first turtle that crawled up to nest – up until the last week of November when the last clutch hatched.

Two types of turtles are known to nest on Ambergris Caye: the Loggerhead turtles (Caretta Caretta) and the Green turtles (Chleonia Mydas). Very rarely would authorities report Hawksbill turtle (Eretmochelys imbricate) nesting on the island. According to Hol Chan Marine Reserve Manager, Marine Biologist Miguel Alamilla, during the course of the 2014 Turtle Nesting Season, 77 turtle nests were recorded. 49 of the nests were found on the Robles Point Beach, 21 nests at Rocky Point Beach and six at Basil Jones Beach. In addition, one turtle nest was also found on South Ambergris Caye near Wataview Resort. Compared to the 2013 figures in which 96 turtle nests were found, 2014 saw 19 nests less.

But while the nests were less, the hatching success was higher than the previous two years. A total of 8,129 eggs were found in the 77 clutches, and hatching rate success was measured at 68%. It is estimated that 62% of the total eggs made it out of the nests successfully. A total of 9,851 and 9,263 eggs were laid in 2013 and 2012 respectively, but the hatching success was far less, with only an estimated 49% making it successfully out of their nests. Clutch sizes were on average with previous years, having a mean size of 106 eggs.

"This year saw fewer nests but was still better than previous years. Hatching and merge success was better than the previous years (which had more nests). We believe that the weather played a role, as there was less rain during this year's turtle nesting season," explained Alamilla. He added that 50 of the nests belonged to Loggerheads while the remaining 23 were of Green turtles. He explained that four nests were lost due to both improper disposal of garbage along the beach and nesting over existing nests.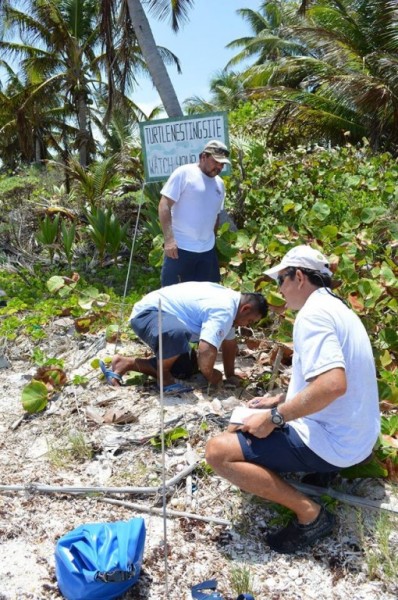 The turtles nested along one kilometer of Robles Point Beach and 100 meters of Rocky Point Beach. The six nests found at Basil Jones were far apart, thus it is considered a patch nesting area. "The nesting grounds on Ambergris Caye are considered one of the most active turtle nesting areas in the entire country and so it is very important. It is the only nesting area where we have consistent data since 2009," explained Alamilla.

One of the aims of the Ambergris Caye Marine Turtle Monitoring Program is to implement several programs that will increase the hatching and emerge rate of success of turtles. "We are hoping that we can eventually send one of our staff to train in Mexico to specialize in relocating turtle nests. Sometimes some areas become a threat to turtle nests due to weather or high tide, and so we have to know how to relocate these nests," explained Alamilla. In addition, he said that for the near future, they hope to get the community involved in a volunteer program that can help monitor turtles on the island. "This is one way we can get the community involved and help us with our education, research and outreach program." In February, a group of students from a US university will be coming to aid the local group to do some research along turtle nesting beaches on Ambergris Caye. "We want to see how erosion and accretion affects the turtle beach," said Alamilla.

Based on intensive scientific research, it is estimated that from the 5,040 turtles that successfully made it out of the nest this year on Ambergris Caye, only 50 will make it to adult sexual maturity. Turtles are also known to return to nest on the same beach that they hatched on. Turtles nest every two years and female turtles are believed to nest two or up to three times in one nesting season. Despite the little that is known about the migratory behavior of turtles between birth and sexual adulthood, it is estimated that they can live up to 80 years in their natural environment. It is the hope of the Ambergris Caye Marine Turtle Monitoring Program to tag one of the female turtles next year to study her behavior. The monitoring of 2014 turtle nesting season was possible through a small grant from the World Wildlife Fund (WWF).
Follow The San Pedro Sun News on Twitter, become a fan on Facebook. Stay updated via RSS