Juvenile Hawksbill Turtle undergoes flipper amputation
Saturday, May 4th, 2013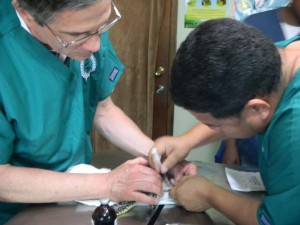 Hol Chan Marine Reserve (HCMR) staff has been caring for sick, weak and injured turtles under the Ambergris Caye Marine Turtle Program. It is estimated that only one in one hundred hatchlings will survive to sexual maturity. On this note it is of upmost importance not only to protect but to conserve these precious species. Last year, HCMR took into their care, a juvenile Hawksbill Turtle that was found near Ambergris Caye's beach. It was quickly noticed that the turtle was suffering problems with its left front flipper, but it was unknown whether the flipper had been broken or if it was a birth defect.
According to Miguel Alamilla, Marine Biologist and Manager of HCMR, the turtle was taken into captivity and placed under observation, and as it grew, the flipper seemed to create a problem for the turtle's mobility. "It has been in our care for over a year. Over time we noticed it wasn't healing and we eventually decided to amputate the flipper since it was getting bigger but it couldn't dive. We had a visiting vet who recommended the amputation," stated Alamilla. The vet that recommended the amputation is Dr. Paul Calle. Dr. Calle is the Director of Zoological Health for the Wildlife Conservation Society's main office in the Bronx, New York, USA.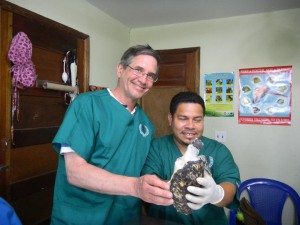 Dr. Calle, along with Dr. Orlando Baptist, local veterinarian of Saga Humane Society, carried out the operation procedure on Wednesday, April 17th. The operation was a success and the turtle has since then been under rehabilitation. "The turtle is still under observation and we intend to release it to a holding facility out at sea at Bacalar Chico Marine Reserve Center. He is swimming better even after amputation," stated Alamilla on the future of the turtle. The turtle was estimated to be about two years old and had a carapace length of 19 centimeters.
Currently there are four turtles in rehabilitation at the HCMR Center. "We try to rehabilitate as many turtles as we can. Every year we get several turtles and we try to bring them back to sea and hopefully they survive. There is only so much we can do, because nature has its own way with these living creatures. It certainly goes a long way, but in order to conserve turtles it is a combination of many efforts including rehabilitating injured turtles," says Alamilla. In Belize three species of sea turtles are protected by law: Hawksbill, Green and Loggerhead turtles, with the Hawksbill being critically endangered due to poaching. Residents are asked to report any citing of harmed turtles on the beaches or at sea to the Hol Chan Marine Reserve at 226-2247 or 2262420. Hunting, killing or possessing an endangered species is against the law of Belize; any violation can result in a fine of one thousand dollars and/or six months imprisonment.
Follow The San Pedro Sun News on Twitter, become a fan on Facebook. Stay updated via RSS