Stabbing in Caye Caulker leaves one injured
Wednesday, April 23rd, 2014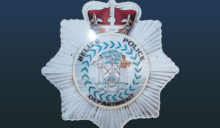 On Tuesday, April 15th, at about 10:40PM Caye Caulker Police responded to reports of a stabbing incident that had left one man injured and in need of urgent medical attention. 24-year-old Aquiles Canche was found at the Caye Caulker Health Center suffering from multiple stab wounds.
Initial investigations revealed that earlier, Canche was socializing with his girlfriend Kathy Balam, 26, on the beach by the cemetery area. According to reports Canche was approached by James Crawford, 31 years old, who stabbed him on the back. Canche defended himself and hit Crawford with a pint bottle, but Crawford continued to stab him before fleeing the area. Canche sustained three stab wounds to his back, one to his stomach and one to the left side of his chest, underneath his armpit. He was immediately taken to the clinic for primary care and was later transported to the Karl Huesner Memorial Hospital (KHMH) in a critical but stable condition. At KHMH, Canche received emergency surgery and is now recovering in a stable condition.
Police conducted searches in the south area of Caye Caulker which led to the arrest of Crawford. Crawford has been detained and is pending charges for attempted murder. Police searched the crime area where they found the alleged weapon, a kitchen knife measuring 9.5 inches. Police believe that the motive of the attack wasBalam, who was reportedly in a relationship with both men.
Follow The San Pedro Sun News on Twitter, become a fan on Facebook. Stay updated via RSS