Be Green with the Belize Recycling Company
Saturday, May 31st, 2014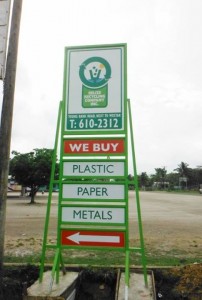 Did you ever want to responsibly recycle your metal, paper and plastic scraps in San Pedro? Well now you can with The Belize Recycling Company, as the mainland company has an island agent who will buy your recyclable materials on Ambergris Caye.
The company was founded in 2005 and incorporates a waste management method designed to reduce the total use of environmental resources by repurposing materials into new products. The Belize Recycling Company purchases metal, plastic and paper, which are then processed into new goods. Paper is converted into 100% recycled toilet paper, napkins and tissue paper, which are then sold as an environmental friendly product. Metals and plastics are cleaned and sold to larger recycling companies in Mexico and the United States of America to be processed and reused. The reuse of these materials reduces the amount of waste ending up in garbage dumps or, sadly, the sea.
Ambergris Caye's agent is Alejandra Castillo, and she can be reached at 662-8567. Or you can deal directly with The Belize Recycling Company at 610-2312. They are located at Mile 8 on the Western Highway, Belize District.
Think green; recycle and reuse!
Follow The San Pedro Sun News on Twitter, become a fan on Facebook. Stay updated via RSS