Belize Port Authority concedes on amendment for Fly Fishing guides
Friday, August 29th, 2014
As of Wednesday, August 20th, vessels being used for fly fishing operations are no longer required by the Belize Port Authority (BPA) to have two crew members on board. The amendment was made after a petition from the San Pedro Tour Guide Association (SPTGA). Before the amendment, all vessels being used for tour guide purposes had to have at least two crew members on board while operating. This was deemed inconvenient by fly fishing guides as passenger weight is an issue in the sport.

BPA regulates that all vessels must have at least two crew members to manage it while in use: a licensed boat captain and a lookout. But fly fishing guides have long complained that the extra weight of a crew member can limit the guide on the areas he can go to fish. Fly fishing is done in salt water flats across Ambergris Caye, using small vessels that only sustain three persons. In these areas where the waters are very shallow, the vessel cannot be maneuvered using an engine, and guides have to resort to moving the vessel manually using a pole. Due to the proximity of the hull to the sea floor, guides only take a maximum of two people so that the boat is not over-weighted.
According to the President of SPTGA Phillip "Billy" Leslie, this is a major accomplishment for fly fishing guides who have long been reprimanded by BPA. "Initially the law was a problem for fly fishermen as they travel to shallow areas using a small boat. The extra weight of a person meant that guides could only take one customer, which is not profitable, and if they took two customers the boat would be over loaded. With this change, fly fishing guides can operate with only the boat captain on board and not be breaking the law," said Leslie.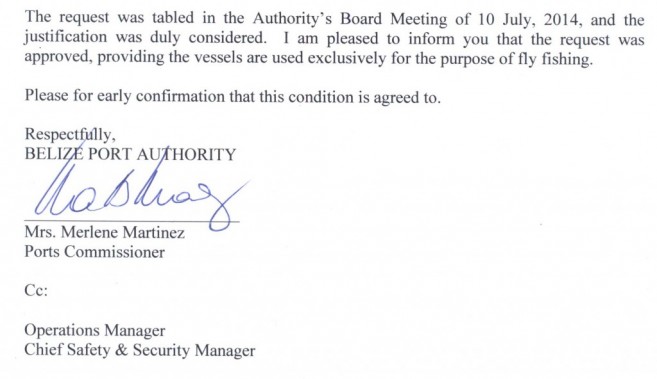 Leslie explained that the amendment will result in an increase in profitability for fly fishing guides and stimulate the growth of the fly fishing industry. "Fly fishing guides and the industry will benefit significantly as now their operation will not be limited in the areas for fishing, giving the customers a better and more memorable experience," said Leslie.
For more information on the amendment, guides can contact Phillip Leslie at 610-3507 or contact the Belize Port Authority's Port Commissioner Marlene Martinez at 223-0714 or via email [email protected].
Follow The San Pedro Sun News on Twitter, become a fan on Facebook. Stay updated via RSS