San Pedro Belize Express Water Taxi vessel runs into the reef
Tuesday, September 23rd, 2014
The San Pedro Sun can confirm that a passenger boat belonging to San Pedro Belize Express Water Taxi ran aground early Tuesday morning September 23rd. The accident happened around 6:20 AM on the reef between Caye Caulker Village and Ambergris Caye while the vessel was making its first trip of the day to the city. Luckily no one was hurt, but for the 50 plus passengers, the incident was frightening.
The accident happened during heavy rain and according to two residents, who went to rescue their family members who were on the boat at the time of the incident, the water taxi vessel ran into the main reef near Shark Ray Alley and within the Hol Chan Marine Reserve. One of the family members told The Sun that her son called her, frantically saying that the boat had slammed into the reef.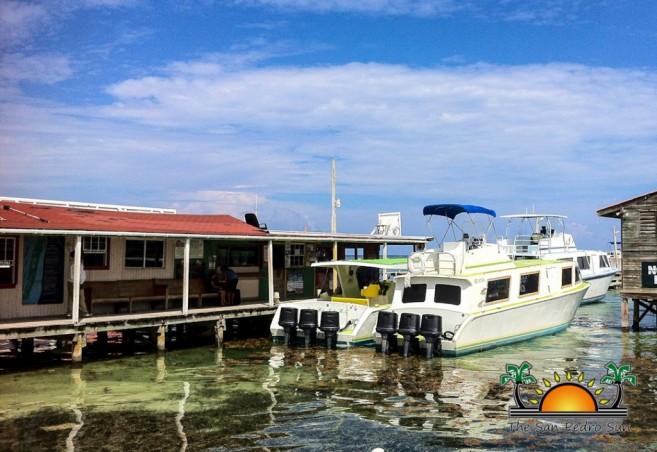 The name of the vessel is Caye'z Stars and had 50 passengers on board including several high school students. The water taxi company immediately dispatched vessels from neighboring Caye Caulker and San Pedro Town to assist in the rescue efforts. Several islanders who had family members on the vessel also responded to the scene.
According to officials at the Belize Port Authority, the matter was not reported to authorities. They confirmed that the boat captain and his assistant have been summoned to give statements. Miguel Alamilla, Manager of Hol Chan Marine Reserve, said that the water taxi operator removed the vessel before anyone in authority arrived on the scene. He indicated that by removing the vessel, the company has violated the law [further]. Alamilla also said that whenever a vessel is involved in an accident, the captain must report the incident to the relevant authorities and wait for clearance to remove the vessel.
The company has indicated to authorities that the grounding occurred in the Coral Garden area, contrary to what residents reported. Nonetheless, the Belize Port Authority indicated that they are conducting a joint investigation along with the Department of the Environment. The San Pedro Sun tried getting comments from the San Pedro Belize Express Water Taxi Limited, but no one has responded to our requests.
Follow The San Pedro Sun News on Twitter, become a fan on Facebook. Stay updated via RSS