Lions Roar
Monday, September 29th, 2014
Lions appeal to the business community to assist with new caretaker's house at Mosquito Coast Park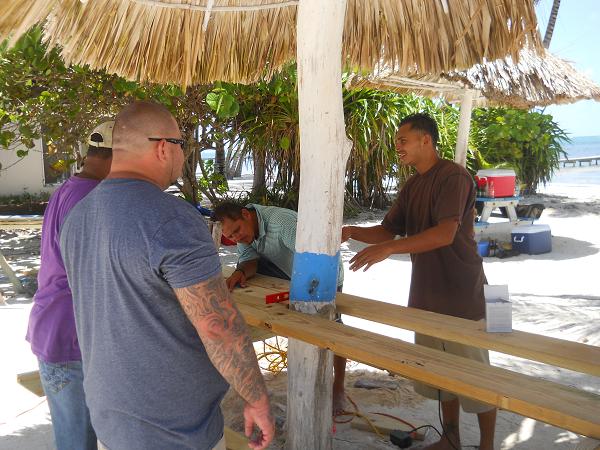 The Lions Mosquito Coast Park, located on the beach just south of the WASA Lagoon is a popular gathering place for families and friends to socialize and delight in the island life. Equipped with palapa-topped picnic tables, a playground for the kids, bathroom facilities, barbeque pit and dock, the seaside park is accessible by road or boat.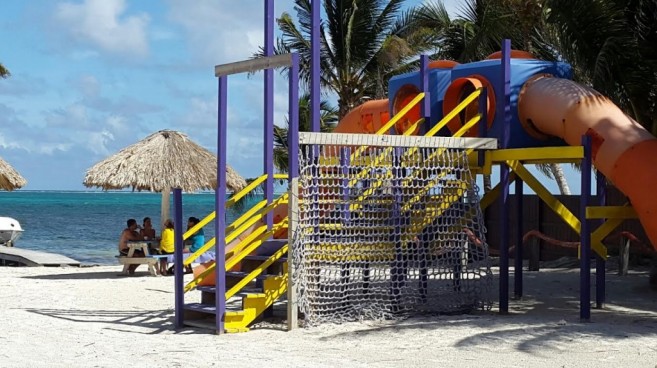 Local tour guides also find it an ideal location for beach barbeques where guests can relish the grilled fish they just caught and take in the scenic area.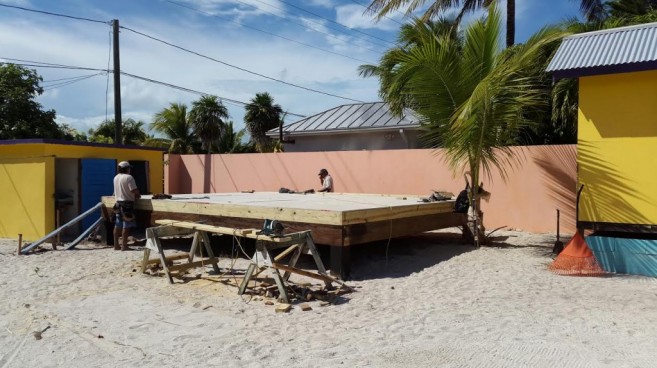 The San Pedro Lions are committed to maintaining the park with the goal that everyone in the community can enjoy a clean park with an onsite caretaker. On August 2nd Lions members gathered at the park for a work-a-thon, where picnic tables were refurbished, the playground painted and the foundation for a new caretakers house was started.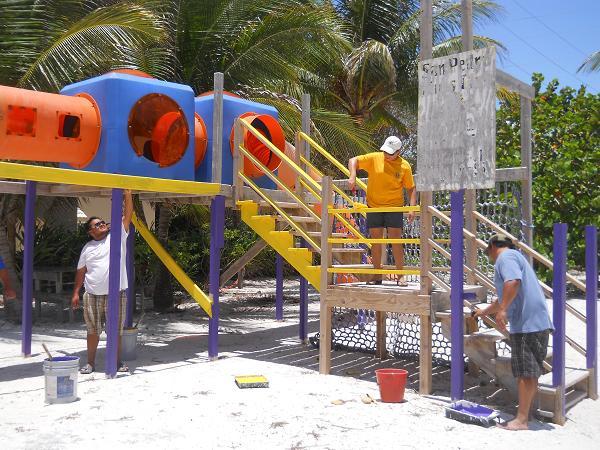 The new caretakers house will be a two room home, 16×20 in size and will accommodate a couple. The San Pedro Lions are appealing to the business community to assist with the expense of building the new house. Although the foundation has been laid, Plycem for exterior walls, a sink and other basic materials are still needed to complete the building. Any and all donations are welcome, monetary or in materials. If you would like to donate please contact Lion President Rigo Kumul at 667-3373 or Secretary Carolina Kumul at 665-5021.
Lions Observe National Service Day

At the early hour of 6AM on September 19th the San Pedro Lions recognized National Service Day with a flag raising ceremony at the den. President Rigo Kumul had the honor of raising the flag while members sang the National Anthem. The Lions World Service Day is slated for October 5th when San Pedro Lions will take on a community project.
Other Lions news
During the month of August 2014 the San Pedro Lions donated over $3,300 to individuals in need for medical expenses and other unforeseen hardships.
Advertising spaces are available on the walls surrounding the Lions Den located on the corner of Pelican Street and Barrier Reef Drive. There are two spaces available for $200 per year and one space at $300 per year. For more information contact Secretary Carolina Kumul at 665-5021.
Mark your calendars! Plans are underway for the San Pedro Lions 39th anniversary celebration on Saturday, October 25th. The evening promises to be great fun with delicious food, live music and dancing.
Follow The San Pedro Sun News on Twitter, become a fan on Facebook. Stay updated via RSS