Rene Reyes Jr. makes his mark at The Pantheon Games
Saturday, November 15th, 2014
Over the weekend of November 1st and 2nd Rene Reyes Jr. participated in the 2014 Pantheon Games held in Miami, Florida, USA. The Pantheon Games is a fitness competition that tests the skill and endurance levels of athletes (many who practice Crossfit) from all over the USA and internationally. It has only been a year and few months since he's been involved in the Crossfit lifestyle in San Pedro Town, but even then, the 22-year-old managed to place in the top 20 out of 40 total competitors.

Renesito, as he's known at our "box" (gym) and around town, has been training at San Pedro Crossfit, first as a student, then moving on and becoming a certified coach. He's actually my coach, and I've seen how passionate he is, pushing harder each and every day. Personal experience has taught me that he genuinely believes that we ALL have champions within, and when he sees interest from others, he is happy to train and offer assistance. But he's always looking ahead, seeking more, seeking better, for the box, for his students, and most importantly, for himself.
That's why he jumped in without hesitation at his first international competition. "I was alone, and honestly, it was mixed emotions," said Rene during our interview. "I saw guys with supporters, all wearing the same shirts from their box. Some of them had their trainers with them, and it was all set up like their own mini-box. You could tell it was a big deal for them to be with those they train and work with." But that also made him want to do that much better. "Even though I was on my own, I thought of everyone who had been messaging me, and the crowd at San Pedro Crossfit, and my family who has been my biggest supporter and sponsor. I felt like I was strong – mentally – because they were pushing for me…cheering. I had to prove that I could make it, even if I was by myself."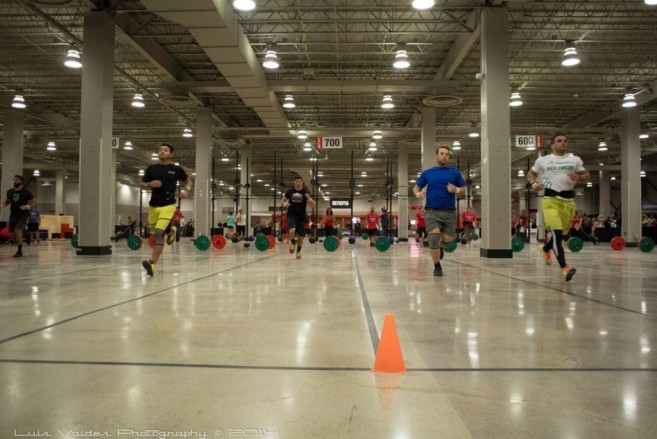 After two workouts per day, going all out on both his strengths and weaknesses, Renesito left everything on the competition floor. "I didn't know anyone competing, so I didn't know what their strengths were, or where they were weak. I had to focus on my own, and I gave it my all. I wanted to be in the top half, for my first competition, I wanted to place at least in the top half." So when he received his final rankings, and discovered he had placed 19th out of 40, so of course he was very happy. "Aim as high as you can. Anything is possible as long as you work for it!" Renesito is already training and pushing for next year's Pantheon Games, and following that, he's looking to partake in the Wodapalooza Fitness Festival in January of 2016. Competition has entered his mind, and now that he has the taste of winning, he's only looking ahead. "I always want to aim for more, and I'll keep working and see how far [I] can get." He also believes that other Belizeans should definitely take up the challenge. "This competition motivated me to come back and tell other athletes about the potentials they have, and to give it a try." Not only did he come back motivated, but he also may have put Belize in the spotlight as well. "Many people were asking about Belize, and some immediately went to Google to find out more, saying, 'Oh it's beautiful! We have to visit!' That made me happy to share my country with other athletes," he said with a smile.

We join the San Pedro Crossfit community, friends and supporters in congratulating Rene Reyes Jr. for a job well done. All the best in your future endeavors, and continue to inspire and push forward!
Follow The San Pedro Sun News on Twitter, become a fan on Facebook. Stay updated via RSS