Belize Lions Zone 59 Hosts Second Vice President of Lions International, Robert E. Corlew
Saturday, November 22nd, 2014
The Belize Lions Zone 59 recently had the distinction of hosting Lions International Second Vice President Lion Robert E. Corlew and his wife Lion Dianne to a three day visit to Belize.
On Saturday afternoon, November 15th a contingency of Lions from across Belize greeted Vice President Corlew and his wife when they arrived at the Phillip Goldson International Airport. That evening a dinner was held at the Radisson Hotel in Belize City, where the guests of honor mingled with the Belizean Lions and enjoyed great food, live music performed by the Pannerrifx Steel Drum Band and dancing.
On Sunday November 16th the Belize City Lions Club held a Zone 59 meeting where the Lions Clubs from Belmopan, San Estevan, San Pedro and Belize City presented Power Point presentations on the history and accomplishments of their clubs. Following their presentations, the very personable Vice President Corlew took to the podium where he spoke of leadership and Lionism. Corlew, who is a Circuit Court Chancellor in the Rutherford Country of Tennessee USA, inspired Lions to look at other communities in Belize that are in need of Lions Clubs and work with those communities in establishing new ones. He also spoke of how to increase membership and identifying more projects within the community.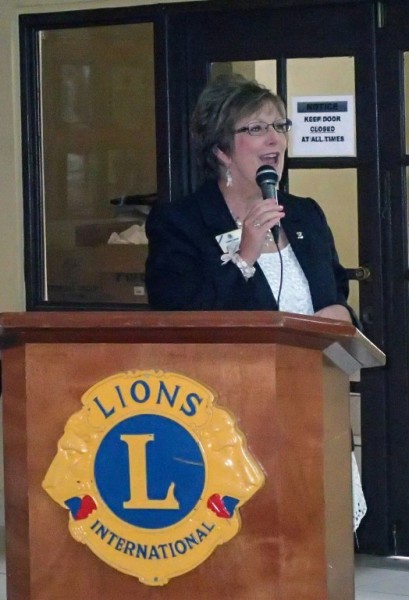 Mrs. Corlew Lion Dianne, who is a retired Pediatric Physician's Assistant, had her turn at the podium as well, and pointed out that 50% of the worlds' population are women, but within the Lions memberships they only make up 30%. She posed the question, Why not the same ratio within the Lions? This, among many others is one of her goals as a Lion member. Following their presentations Belize Lions Zone 59 President Lion Marisol Mehlado presented the guests of honor with Belize Lions Pins and unique Belizean gifts of appreciation.

A delicious barbeque lunch was then served while the group was entertained by the beautiful vocals of St. Luke's Methodist School Choir who were dressed in cultural attire and performed traditional Garifuna songs. After lunch close to thirty Lions joined the Corlew's on a visit to Old Belize.
During the remainder of their stay the VP and wife spent time in Belmopan where they meet the Governor General, the Prime Minister and the US Ambassador. In Belize City they visited the Belize Council for the Visually Impaired and other projects under the Belize City Lions Club.
After a morning appearance on the "Open Your Eyes" TV program on Tuesday November 18th, the Corlew's flew home to Nashville, Tennessee USA.
Second Vice President Robert Corlew is slated to become the president of Lions International in 2017, which will also be the year that the Lions celebrate their 100th anniversary.
Follow The San Pedro Sun News on Twitter, become a fan on Facebook. Stay updated via RSS