Zen Arcade donates Rice and Beans to Raise Me Up
Saturday, December 13th, 2014
Rice and beans are staples to many Belizean households, yet several families in Ambergris Caye cannot afford these simple ingredients to make a basic meal. To address this issue, five women have created a non-profit organization called "Raise Me Up" in an effort to eliminate inadequate living conditions by fulfilling basic needs while raising awareness in the community. For the past month Raise Me Up has been distributing 100 pounds of rice and beans every week to underprivileged families on the island. Local business Zen Arcade saw a need to assist the organization and on Tuesday, December 9th, donated 100 pounds of rice and 100 pounds of beans to Raise Me Up.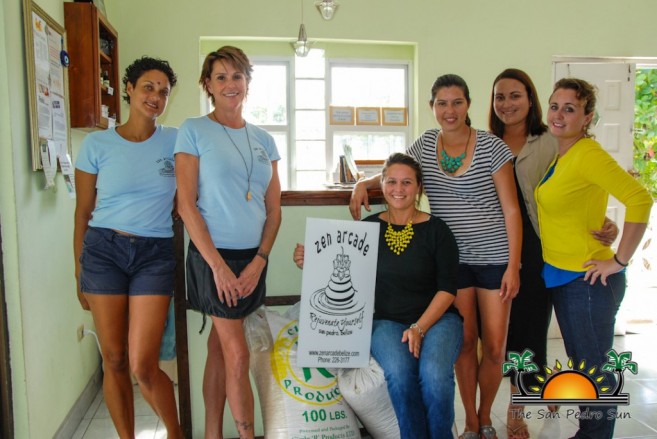 According to Tara Darall and Noele McLain of Zen Arcade, a raffle was held to raise funds to buy the products. "When we heard about the organization and what they are doing to help the community, we immediately wanted to assist. We decided to have a raffle at our Christmas Party, and received several donations which we raffled out. Guests were invited to buy tickets at $2 for a ticket or $10 for eight. With the money raised we purchased 100 pounds of beans and 100 pounds of rice to give to Raise Me Up," said Darall and McLain.
Accepting the donation were founders of Raise Me Up Kelly Blanchat, Kristi Gonzalez, Melody Sanchez Wolfe, Lori Drake and Jodie Bowen. "We recognized the need to help families in San Pedro, primarily single parent homes, who are struggling to put food on the table. We started by purchasing 100 pounds each of rice and beans, gathered in a living room floor, and commenced bagging. Each week a different member of the group would finance the purchase. When we found out that this week's inventory was being donated, we were thrilled that the community is offering a hand in helping those in need," said Drake.
The group has just been in operation a little over a month, but since then, they have provided weekly packages of rice and beans to about 50 families. "We package rice and beans into two pound increments and then head out to two developing areas of the island, San Pedrito and San Mateo. We go door to door, talking with families, and handing out the rice and beans. There was so much need, and this need is what started Raise Me Up. We are still in the very beginning stages at this moment," said Drake.
To assist Raise Me Up, contact them via FaceBook at www.facebook.com/raisemeupbelize. You can either volunteer your time assist with bagging/delivery duties, help at the organization's monthly sale, donate used clothing, toys, and household items for their monthly yard sale (all proceeds go towards rice and beans and bagging supplies) or make a direct monetary or inventory donation. Help is also needed in identifying families that are in need.
Zen Arcade would like to thank Winsom Winsom, Blue Water Grill, Big SUP Belize, Island Time Bar and Grill, Lone Star Cantina, Marbucks, Casa Picasso, Island Divers, Tres Pescados, Melody Sanchez Wolfe, Rubi Moon and the Orange Gallery.
Follow The San Pedro Sun News on Twitter, become a fan on Facebook. Stay updated via RSS