Residents claiming negligent charges by BWS
Friday, January 9th, 2015
Several island residents have been complaining that Belize Water Service (BWS) Limited has been charging them for unconsumed water. Some residents have registered their discontent with the customer service section of the water company, and in some instances given a written explanation why their water meter has registered low consumption for the specific billing cycle. Despite their explanation, residents say that BWS have taken the position to charge them based on a mean-rate formula to calculate approximate consumption and charges. BWS says that while they can impose charges legally, it must be within reason.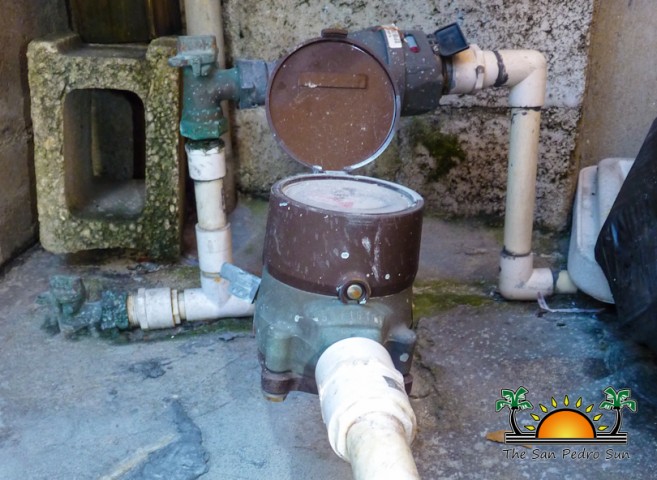 The residents contacted The San Pedro Sun and one of them provided a letter that was sent to BWS indicating their reason for objecting to the position of the water company. According to one resident, during the rainy season, their home is connected to their personal water tank that was built long before BWS ran water pipelines in their neighborhood. The resident claims that the entire building is hooked up in such a way that at any given time, they can switch from BWS to the water that is collected inside their concrete vat. The angry resident claimed that during a good rainy reason, their household can go for months without being hooked up to BWS since their vat is large.
Another island resident claimed that during a specific period of the year, her water consumption increases because of her family that spend extended period, since they try running away from the winter season in the United States. The person claims that once the family returns, their water consumption amount falls. Meanwhile a third person says that because they utilize tap water for their garden and flowers during the dry season, it shows high consumption rate. During the rainy season, the resident claims that they tend to water their plants less which makes their consumption fluctuate.
According to one resident, BWS went to the point of changing their meter, believing it to be faulty. Notwithstanding, after an extended period of consuming the rain water collected inside their vat, BWS decided to impose charges, taking into consideration mean consumption. The home-owners claim that they were contacted by BWS officials inquiring why the water consumption on their meter has been lower than normal. They have provided us with the written explanation that they have forwarded to BWS. They claim that BWS did not accept their explanation and still went ahead to access their bill base on mean/average consumption.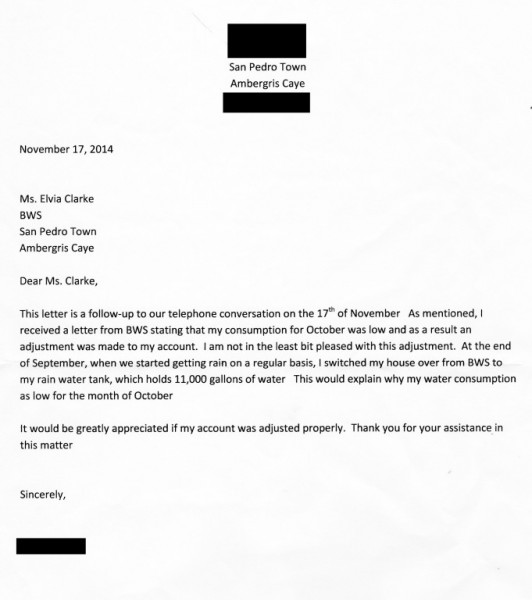 "Legally we can backtrack and do assessment of meters that have stopped working or slowed down in terms of their regular consumption. As it relates to a situation where a customer has written in, and showed where they have a cistern that they have been utilizing their own water and we are satisfied with our assessment, then we would revert to charging them a flat rate," said Haydon Brown , Public Relation Officer of BWS.
This has residents upset because they claim that not only is BWS charging them for an unconsumed amount of water, but it chooses to blatantly dismiss their explanations, claiming that they are in their legal rights to impose the charges.
Brown reassured that it is not the normal practice of BWS to "blatantly" dismiss an explanation. He explained that once an explanation is given, BWS carries out their due diligence and inspect that indeed the person has a vat that is working and connected to their household. "Our supervisors at our respective branches have been asked to visit these customers even to ensure the service pressure and quality of water is good, so that these people know we are not looking to take advantage of them. When we carry out assessment or change their meter, it must be done in the presence of the customer. We make appointments with our customers, either business owners or homeowners to indicate to them, 'listen, we need to test your meter to see if it is working or not and what may be triggering a lower or higher water consumption.' This must be done before we can impose a charge. If that is not done in San Pedro, then we at BWS need to look into that seriously because that is our internal process," explained Brown.
Brown said that anytime there is a meter reading showing significant changes in water consumption; a water consumption notice is give to the customer indicating the significant change in meter reading. Such notice will give the customer the opportunity see if anything is wrong with their connection and explain to BWS why there is a change in meter reading. That explanation is used by BWS as part of their assessment and taken into consideration when calculating their bill.
Anyone who has a valid case, and would like more information in regards to this issue can contact the local BWS office on Manta Ray Street in San Pedro Town. Customers may also ask to speak to someone in the Customer Service Department at the BWS office located on Central American Boulevard in Belize City.
Follow The San Pedro Sun News on Twitter, become a fan on Facebook. Stay updated via RSS