The SPTC addressing deplorable road conditions
Saturday, December 12th, 2015
Residents of Ambergris Caye continue registering their displeasure over the condition of the roads around the island, particularly in the southern areas. In recent weeks, the inclement weather has added to the deplorable conditions of the roads, with residents complaining about inundated potholes, and flooded, muddy roads. The San Pedro Town Council (SPTC) states that it has acknowledged the situation and is already addressing the issue as the rains have ceased for the time being.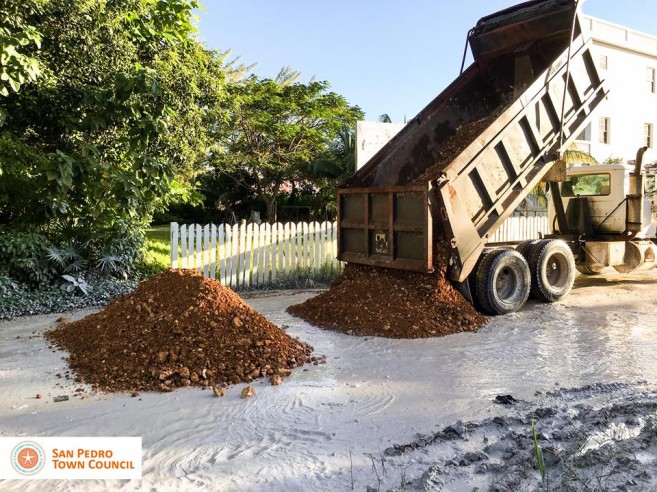 In northern Ambergris Caye, hoteliers were concerned about a crater like pothole blocking access to the rest of the island, while in the south and outskirts of San Pedro Town, likewise residents and businesses were being affected by completely flooded, impassable streets. The SPTC states that although the conditions can be attributed to Mother Nature, they are doing their best to alleviate the problem as it is one of their prime responsibilities.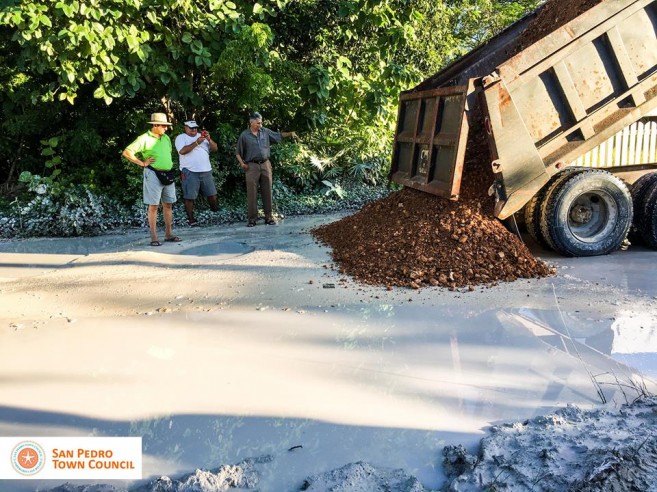 According to Mayor Daniel Guerrero, they are doing what they can given the resources available. "We have taken care of the problems up north, but the areas that really need assistance right now are in the southern part of the island. So now we are dedicating three barges of hardcore material for the south. There will be one barge of material for San Pedrito alone, another one for San Juan and Boca Del Rio, one barge for San Pablo and San Marcos and two barges for DFC. This is what we are doing currently and this is just the beginning," said Guerrero.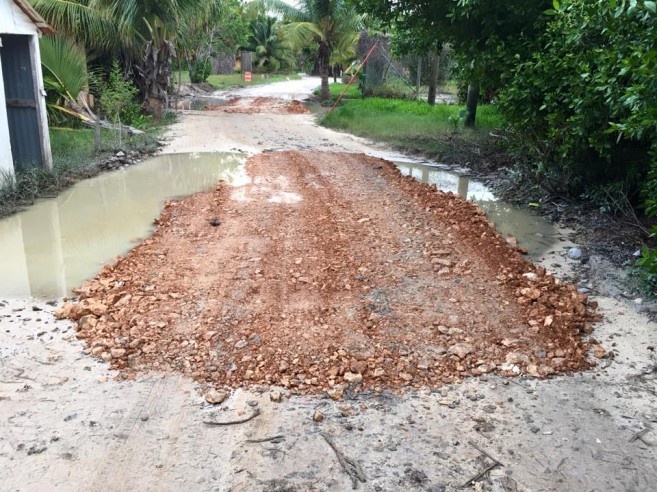 He mentioned that these initial works is just to buy time and fix the roads to a decent state while the finishing works are coordinated. "We will be getting a lot of material from the quarry up north to do the final works on all the streets. At the same time we are negotiating to pave the road in the south starting from Rum and Bean. We don't have a date yet when this project will start, but for sure we look forward to do it in 2016," said Guerrero.
Guerrero said that the Town Board will be working along with the stakeholders from the southern part of the island in order to come up with a plan. The development of the road in that area will greatly benefit the residents and businesses by making them more accessible. It will also increase business opportunities for the different establishments in southern Ambergris Caye.


For the time being, residents are being asked to please be patient as assistance will gradually come to their areas. No one will be left out, as all areas that need urgent road repairs will get the attention they need. The present works on the roads are being fully financed by the San Pedro Town Council who hopes to get all corners of the island help where it's needed.
Follow The San Pedro Sun News on Twitter, become a fan on Facebook. Stay updated via RSS