SPTC says street repairs to start shortly
Friday, December 13th, 2013
For months, residents in the various neighborhoods of Ambergris Caye have been complaining about the deplorable conditions of the roads on the island. The excessive rainy weather conditions this year has added to the deterioration of the streets, but that is no consolation for residents who are forced to traverse through streets that are covered by stagnant ponds of water and mud.

According to the many frustrated area residents, they have to travel through the stagnant water and mud to get to work or take their children to school. In some areas, public transport refuses to accommodate them, making it even more difficult to travel, especially during inclement weather. The only alternative is to traverse through water and mud barefoot, making it an unsanitary and messy inconvenience to many who live in these extremely hard-hit areas.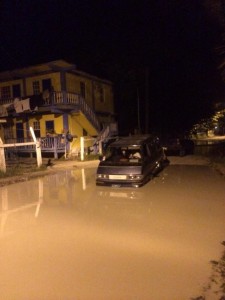 In an interview with The San Pedro Sun, Mayor of San Pedro Town Daniel Guerrero said that his council will be working on the streets before Christmas. "We are fully aware of the conditions of the roads in the outskirts of the town core area and we have a plan. It just happens that it is raining so much that it is delaying the street works. We will not be fixing these roads during the rainy season, it will make no sense because we would have to go back and fix them. We were hoping that rains ease down to start before the Christmas. We have over 10 barges of hardcore that we will be using on these streets before the end of the year. It is a part of 50 barges that will be brought to the island for street repairs," said Guerrero.
The first barge of hardcore is expected on the island by this weekend and works, if weather permits, should commence immediately. "Our materials will be prioritized and used in areas where the worst streets are. Some of these areas include streets where Belize Water Services has been doing dredging for water improvements. We also have streets in Boca del Rio, San Juan, San Pedrito and parts of DFC. The water company has been doing massive work in these areas, and we know we have to fix these areas as soon as the first batch of material arrives. From there we will move on to the other streets."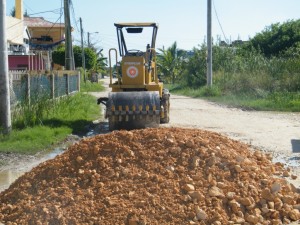 Guerrero pointed out that bad street conditions are a problem faced not only by the San Pedro Town Council, but by other municipalities and even the central government has to battle with similar problems. Those issues were also put to the Prime Minister of Belize Dean Barrow on November 27th. PM Barrow said that Government of Belize would spend $2.26 million in emergency repairs for the most severely affected roadways. According to Mayor Guerrero, so far GOB has committed to help with $500,000 for street repairs on the island. That is equivalent to the cost of 25 barges of hardcore material, with each barge equivalent to approximately 225 cubic yards of material.
Last year, the San Pedro Town Council reported that they invested $1.5 million dollars in hardcore material and a similar amount is expected to be spent in the early part of 2014. Those prices are only for material and transportation from the mainland in Belize City to the San Pedro Town marina. The expenses to have the material spread, and the operation of the heavy machinery, are also incurred by the council.
Follow The San Pedro Sun News on Twitter, become a fan on Facebook. Stay updated via RSS