Mayor Daniel Guerrero speaks on issues…from streets to politics
Saturday, April 19th, 2014
The Mayor of San Pedro Town Daniel Guerrero and three of his councilmen were busy on Thursday April 10th inspecting work being conducted on the streets of San Pedro Town. The street work is being carried out by the Ministry of Works with the assistance of The San Pedro Town Council (SPTC). Over half-a-million dollars worth of materials is being barged to the island to rehabilitate streets in the DFC, San Juan, Boca del Rio areas and on Northern Ambergris Caye.While speaking about the roads, the Mayor also took the opportunity to address other concerns including his political future.

Street Rehabilitation
According to Mayor Guerrero, the rehabilitation of the streets includes grading, elevating their height with hardcore material and then leveling of the street with a roller. "We continue to work on all streets and road. The central government is providing $397,000 worth of hardcore and the council is giving the rest which brings the total to a little over half of a million dollars. Our main purpose is to elevate the roads because they are flat and low. We are elevating and putting more hardcore on the main roads leading into the various subdivisions and we are also placing less hardcore in the connecting streets. What we are doing is that we are building a hard foundation so that in the future, if we can pave them, it will be able to hold on strong. If you notice we are doing it in the dry weather so that when it rains, the roads will hold on perfect," said Guerrero. So far, the council has depleted the funds provided by the Government of Belize through the Municipality Street Rehabilitation Project implemented following excessive rains late last year.

On speeding traffic and ensuing dust
The rehabilitated streets now boast a strong foundation, and a smooth ride is practically guaranteed. However, with good comes bad, and residents have been complaining that because of the improved conditions on the roads, speeding is becoming a problem. And on the heels of fast traffic is excessive dust. "We are aware of the two problems. We have eight traffic wardens and they are out patrolling, ensuring that people are driving within the speed limits. But we cannot do everything. Motorists need to be mindful of others and that not only is speeding a problem for other motorists, but it picks up dust and now residents are complaining… In regards to the dust, we do not have a water truck and currently we are fixing up a vehicle that has a big plastic container that we will use to wet the roads to reduce dust. Currently our trucks are being used to transport hardcore material for the streets, but as soon as all the hardcore has been moved, the truck will be rigged up with a plastic tank and used to water the roads. We will not water the roads within town, only those streets where dust is a big problem," added the Mayor.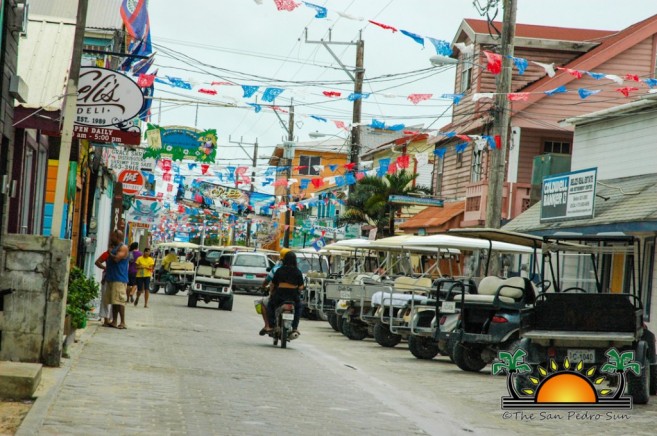 Speed limit for the entire Ambergris Caye is 15 miles per hour, and according to the San Pedro Transport Department, signs have been placed all over the island. The Transport Department has been equipped with a speed gun to help tackle the issue of speeding. Ignorance about the law as it relates to speed on the island is not being taken as an excuse for speeding, but wardens are encouraged to use their discretion to warn first time offenders.
On other traffic issues
The Mayor also addressed questions raised regarding the implementation of bells, lights, reflectors on bicycles as well as indicators on golf carts. While it is a requirement for all bicycles to be fully equipped with a bell, front lights as well and indicators, this has not been implemented. In fact in almost the entire country, traffic wardens and police officers have been lax in enforcing the bicycle laws. According to Mayor Guerrero, when the SPTC through the Transport Department moved to enforce the bicycle law, he was called a "dictator." "We decided to take a different approach because we wanted to listen to the people. Legally, bicycles are required to have good brakes, bells, lights and reflectors and golf carts should have indicators because they are on public roads. As a matter of fact, it is mandatory for them to have these things on the bikes and carts. People complain that when they invest and put all these things on their bicycles and golf carts, other people steal them and break them. We should not be held responsible for that, but the approach we are using is that we have indicated to our traffic wardens to start educating our motorists. We have asked them to start telling bicycle riders that it is necessary and will be required to have all these things. We continue to indicate to our cart owners that it is a requirement to have indicators on their carts. So when we decide to implement these things, it is not a surprise to them," said the Mayor.
On his political future
Guerrero also addressed the issue about his political future since town council elections are slated for early next year. The Mayor did confirm that two people had applied as Mayoral candidates for the United Democratic Party (UDP) but one has since decided to run as councilor candidate instead. "Our political slate has been formed and confirmed. I am the mayoral candidate and three current councilors have decided to run again for a second term, while we have three new candidates," indicated the Mayor. The UDP 7 will comprise of Mayoral Daniel Guerrero, Deputy Mayor Gabriel "Gaby" Nuñez, Councilors Carlos Barrientos and Severo "Severito" Guerrero and three newcomers are Ruben Gonzalez, Gary Grief and Hector "Tito" Alamilla. According to the Mayor, while they expect to have an endorsement convention in the near future, he is starting his campaign this weekend.
Unlike the People's United Party, the Mayor said that the UDP in San Pedro Town has had a hard time attracting female candidates. Guerrero did say however, that he continues to reach out to the female population, since they occupy key positions in the municipality.
Follow The San Pedro Sun News on Twitter, become a fan on Facebook. Stay updated via RSS