Winners of the annual Caribbean Christmas Colors Contest illuminate San Pedro
Wednesday, December 23rd, 2015
It was another joyful ride for The San Pedro Sun staff and judges as they rode around San Pedro Town on Friday, December 18th, for their 10th Caribbean Christmas Colors Contest. Joining the merry ride and having the great honor to choose their favorite brightly lit homes were esteemed judges Rene Guzman, Cindy Guerrero and Diane Lawrence. Children were delighted to see the golf carts adorned with Christmas decorations driving past their streets, as the mini parade went along judging the festively decorated houses while handing out sweet treats in the spirit of holiday sharing.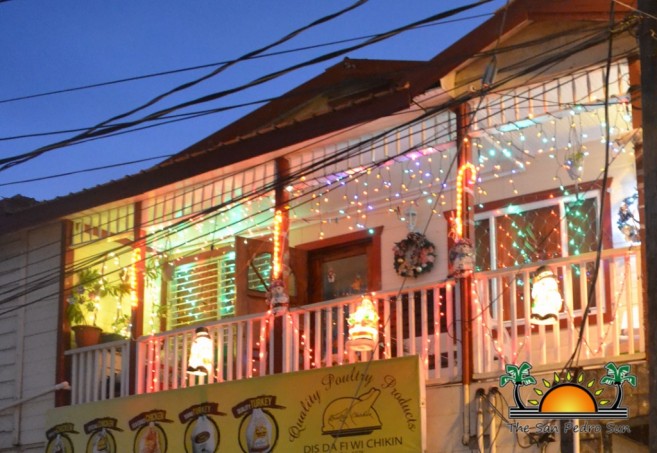 Although the rain and challenging roads tried to dampen their holiday spirit, the gang still managed to tour through town core, neighboring areas and even ventured over the Boca del Rio Bridge for a short distance. The procession then ventured south, all the way to Escalante and through DFC. Unfortunately some areas were impossible to reach due to street conditions due to the rain.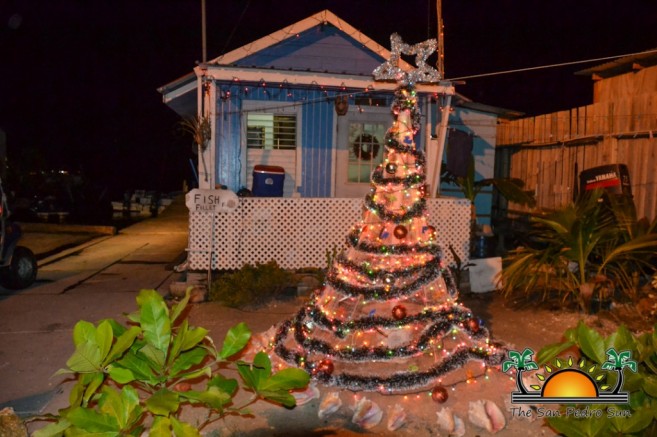 Despite it all, nothing could stop the fun, which was certainly the sight of the festive houses, each uniquely decorated. The three judges certainly had a difficult task, as all the decorated houses had their own special Christmas touch. The hardest part of the night was choosing the lucky winners. Houses were judged on which portrayed the different categories best: Judge's Choice, Best Theme, Most Creative, Jan Jensen Memorial, Neighborhood Star, Honorable Mention, Mrs. Claus's Choice, Best Business, Business Honorable Mention, Reason for the Season, Santa's Special Pick and Best Overall. After a brief deliberation by the judges, decisions were made and the choices were unanimous.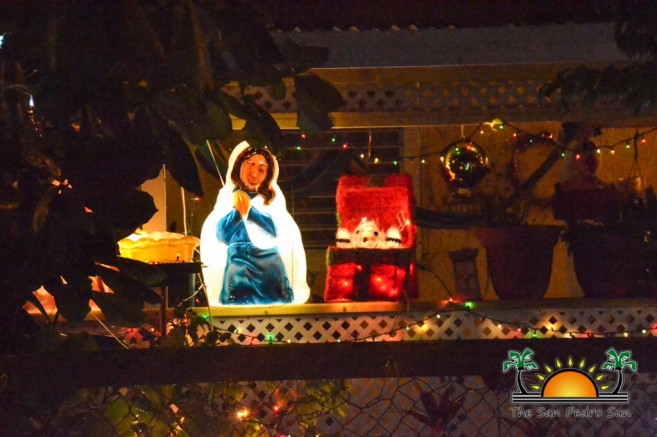 The San Pedro Sun is proud to announce the winners of the 10th Caribbean Christmas Colors Contest:
Judges Choice: Ozzy and Irma Palmer, San Pablo
Best Theme: Maestro Reyes, Boca del Rio
Most Creative: Pany Arceo, Embarcadero Area
Jan Jensen Memorial: David Rancharan, San Mateo
Neighborhood Star: Campos Family, San Juan
Honorary Mention: Mimi Burgos, downtown
Mrs. Claus's Choice: Acosta family, Boca del Rio
Best Business: Nellie's Laundromat, downtown
Business Honorable Mention: Mr. Pete Salazar/Coral Cable, downtown
Reasons for a Season: Meleny Bradley, DFC
Santa's Special Pick: Claudia Flores, San Pedrito
Best Overall: Francisco Carmona, Escalante
Winners can collect their prizes at The San Pedro Sun office located on Barrier Reef Drive above the Love Belize Gift Shop, Wednesday December 23rd or after December 27th. The San Pedro Sun would like to thank all those who helped in making our annual contest a huge success. Special thanks go to the generosity of the sponsors in providing wonderful gifts for the winners. Until next year, Merry Christmas and a Happy New Year!
Follow The San Pedro Sun News on Twitter, become a fan on Facebook. Stay updated via RSS