Immigration Department recommends BTB's QRP program for retirees
Saturday, November 26th, 2016
Retirees living on Ambergris Caye have expressed concern regarding perceived procedure changes at the Immigration Department. It was reported to The San Pedro Sun that it seems like some rules have changed – particularly the monthly stamp for an extended stay in the country – and it is now affecting non-Belizean residents. A call was placed to the Immigration Office on the island, whereby an officer clarified that rules have not changed, but rather, they are being strictly enforced.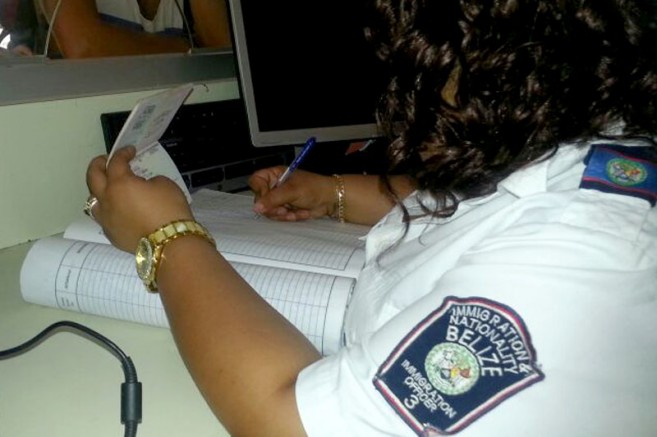 Normally Immigration laws in Belize allow non-Belizean citizens to extend their stay in the country for a maximum of six months. Every month, persons wishing to continue staying legally in Belize must visit an immigration office where they can get an extension. If during those six months, the individual has not acquired any ties to Belize (bought property, married a Belizean citizen or obtained a working permit), he or she must leave the country. According to a San Pedro immigration officer, there are no exceptions to this procedure, and it applies to everyone.
"Sometimes Immigration Officers may still give extensions to a non-resident, even after they have completed their six months' stay," said the officer, who asked to remain anonymous. "This is wrong and against our Immigration laws. Unfortunately it can go unnoticed for years, until an Immigration Officer catches on and enforces the law." He acknowledged the recent complaints, but stated that non-residents must abide by the rules.
However, the Immigration Department is highly recommending the Qualified Retired Persons Incentive Program (QRP) offered by the Belize Tourism Board (BTB). According to them, this program gives qualified retirees better benefits, without having to leave the country. QRP was developed in the 90's, and it opens the doors for anyone forty-five years or older with a pension or annuity to retire in Belize. The program also covers spouses and children.
According to the program, the main requirement for retirees is proof of a minimum $2000US monthly payment from pension or business investments outside of Belize. Said funds must be deposited into a local bank in Belize. Other requisites include having a clean criminal record, and retirees must pass the background security clearance check by the Ministry of National Security.
Once that process is done and approved, a QRP Resident Card is issued by the BTB, entitling the qualified person multiple entries into the country. The card also allows the individual to remain in Belize with their dependents for as long as they continue to be a part of the QRP Program. This also means that the person will not have to renew their tourist visa every 30 days at the Immigration Office. For more information on this program, contact the BTB at 227-2420.
Follow The San Pedro Sun News on Twitter, become a fan on Facebook. Stay updated via RSS