Immigration Officials Raid Medical School
Friday, February 3rd, 2012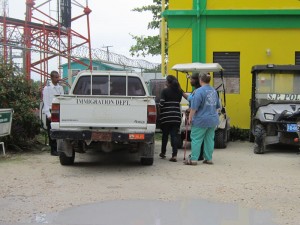 Investigations by The San Pedro Sun have revealed that two students and one teacher from the American Global University School of Medicine (AGUSM) were detained Thursday evening, February 2nd, at the San Pedro Police Department and later transferred to the Immigration Department Office in San Pedro.
Sources stated that an investigation was conducted on the AGUSM premises by immigration officials from Belize City following information received regarding discrepancies of proper documentation. Investigations led to the discovery that two medical students were in the country without proper documentation (no student visas) and one professor was not in possession of a work permit.
The two students were in the country for just over three months. As far as the professor is concerned, it is uncertain as to how long that individual has been practicing in the country. While proper procedure would warrant that these individuals be detained and escorted to Belize City where they would be held until deported or tried, immigration officials received instructions from higher office to have them released. As it stands, both students are required to get student visas and the professor needs to acquire a work permit by the end of the day. How they will accomplish such a feat remains to be seen.
The San Pedro Sun contacted Ms. Peggy Allen, VP of Operations at AGUSM in the United States who informed us:
"There was a miscommunication at the time. The students and faculty member was released. There were no charges filed. They were soon released. All of the student permits are issued. We do this every semester. Apparently this was just a miscommunication and they had to verify a couple things and everything was verified."
All three individuals were released without charge.
Follow The San Pedro Sun News on Twitter, become a fan on Facebook. Stay updated via RSS