AGUSM moves to mainland; new medical university starts in San Pedro
Friday, February 22nd, 2013
The American Global University School of Medicine (AGSUM) is no longer on Ambergris Caye after moving to a larger facility in Ladyville Village in the Belize District. The confirmation was made by the university President and Chief Executive Officer Dr. Malik Soudah. He explained that there are new and exciting plans for AGUSM and for that reason, the university needed a larger campus. Dr. Soudah also explained that with AGUSM moving to mainland Belize, a new medical university has been operating in San Pedro under the name of Washington University of Health and Science (WUHS). Both universities are operating under a consortium with two different accredited charters from the Government of Belize but under one company, namely American Academic Services.
"We wanted to expand and do more things with the university. One of the things we needed was more space; space that suits a medical school," said Soudah as he explained why AGUSM was relocated to mainland Belize. One of those exciting changes explained Soudah is that AGUSM will be slowly moving to cater to the Central American and Caribbean markets. "There are some medical students who wish to study medicine in Central America or the Caribbean so we decided to move into that area and cater to that market as well," Soudah explained.
AGUSM continues operations in Belize and is moving positively as there are already 100 medical students practicing their six clinical semesters. Of those 100 students three are Belizeans who are in various hospitals either in the United States or in Canada. The new January 2013 semester saw about 25 students registered at the AGUSM campus in Ladyville and according to Soudah, the university is gearing up for their September intake. AGUSM medical students are required to take four basic pre-med science semesters after which they do their doctoral of medicine program in the Belize campus. Upon successful completion, they do their clinical semesters abroad.
And while AGSUM has moved to mainland Belize, Soudah explained that they are excited because a new university was established on Ambergris Caye in February of 2012 after they received their charter from the Ministry of Education (MoE). The San Pedro Sun contacted the MoE, and an official confirmed that while a charter had been approved for the new Washington University of Health and Science, (WUHS) on Ambergris Caye, they were unaware that AGUSM had ben moved to Ladyville. The CEO's secretary stated that the ministry should have been informed of the relocation.
According to Soudah, WUHS, like AGUSM, are managed by one company, however they each target separate markets. Unlike AGUSM, WUHS will be taping into the Canadian and US markets and will be operating from a newly acquired property in San Pedro Town. Belizeans can also apply to study at WUHS. Already in its second semester, the medical university has about 35 students enrolled in its pre-medical program and they are all required to complete four semesters of pre-meds (each semester is 16 weeks) of basic science mainly in the area of general biology and chemistry, organic chemistry, physics and algebra.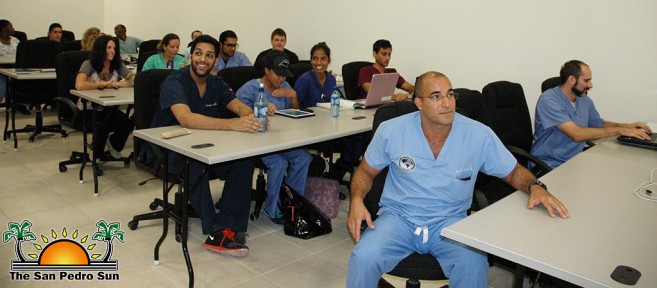 Dr. Soudah explained that once the students successfully complete their pre-medical program, they will receive acceptance into the doctoral of medicine program, which runs for five semesters and is also held at the San Pedro Town Campus. Once those five semesters are successfully completed, they receive an Education Committee of Foreign Medical Graduate certification from the Foundation of Advancement of International Medical Education and Research and complete the US medical Licensing Examination. At that point the medical students will be ready to begin their six semesters of Clinical Science Clerkships within contracted teaching hospitals, mostly in the US. Once those requirements are met, graduates are then permitted to apply to Residency Programs within the US or any part of the world.
Work is still ongoing on the physical structure of the university's facility on Sea Grape Drive, and it is expected to be completed in the next two months. Once those works are completed, WUHS will be hosting a Medical University Open House where the building will be open for inspection and toured by community members and government officials. To find out more about WUHS you can visit their website at www.wuhs.org.
Follow The San Pedro Sun News on Twitter, become a fan on Facebook. Stay updated via RSS