SPTC and Projects Abroad team up for shoe giveaway
Wednesday, December 14th, 2016
San Pedro Town Council's Sports Coordinator Kent Bob Gabourel teamed up with Regina Munji of Projects Abroad to coordinate a shoe drive for the island. On Saturday, December 10th, flip flops, tennis shoes, and sandals were distributed to children in need at the Central Park.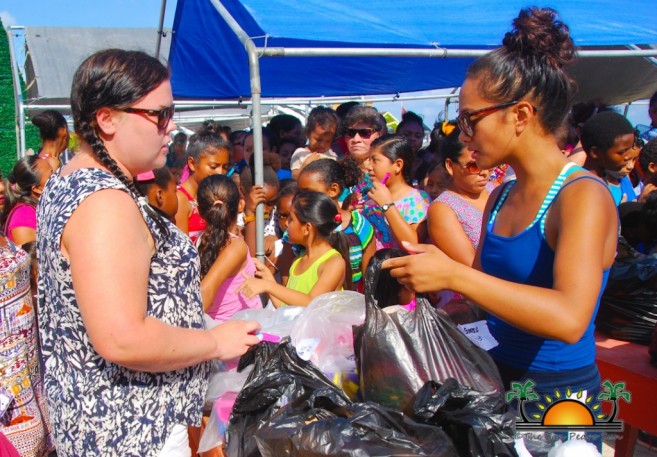 Before the shoes were distributed, Gabourel and Projects Abroad contacted each primary school in San Pedro Town, and asked teachers to recommend students who were in need. These students were then given a slip and they gathered at the park at 1:30PM to receive a new pair of shoes. With the help of Project Abroad volunteers, Gabourel and his team distributed 180 out of 200 pairs of shoes to the island children.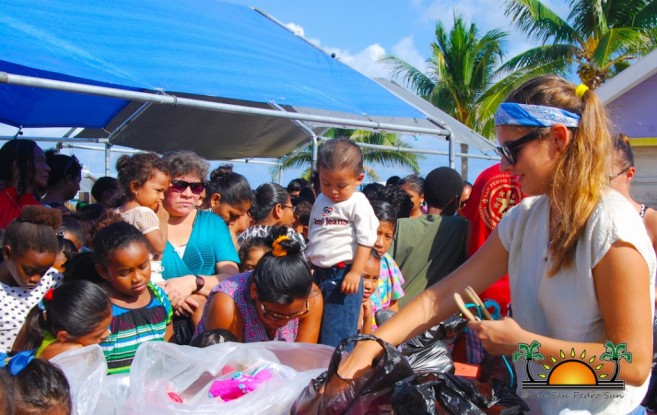 According to Gabourel, the idea to provide new footwear was sparked after a trip to Belize City. "Our inspiration came from the kids that walk around barefoot. When Regina and I went to Belize City for a track meet, we were at the field, and we saw the kids walking barefoot in the hot sun, burning their feet. When we saw that, we decided to do a shoe drive on the island. San Pedro is my home, and nothing is more satisfying to see happy kids receive new stuff," said Gabourel.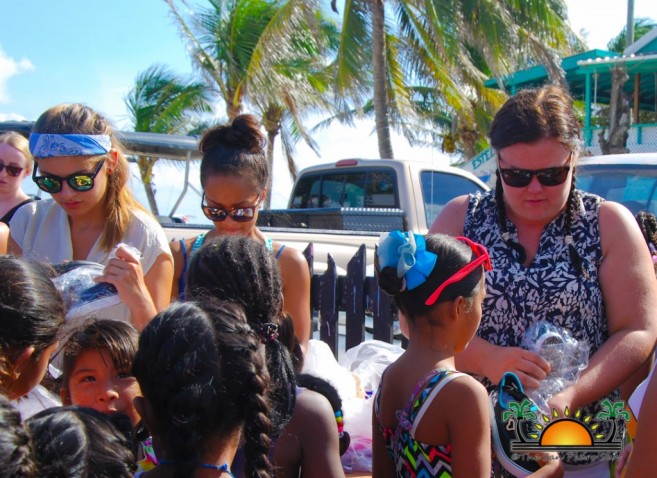 By giving these children a new pair of shoes, Munji believes that their dreams can come true, as a new pair of shoes can be a foundation of hope to a person in need. "There are a lot people who struggle to afford shoes, and shoes are an item some of us take for granted. If it is possible, I would love this shoe drive to continue, and I will work with Gabourel to continue this project," said Munji.
Munji and Gabourel stated that in order to have another successful shoe drive, they will need more assistance from people to join in the initiative and will start seeking donations earlier. Nonetheless, the first effort was a success, and all the children were happy and satisfied.

Gabourel would like to give thanks to their platinum sponsors: The Phoenix, Estel's Dine by the Sea, Amigos Del Mar, and Love Belize; gold sponsors: Banana Beach Resort and Elvi's Kitchen; silver sponsors: Rain Restaurant, Nellies Property Management and Jambel's Jerk Pit; and bronze sponsors: Steven Robinson, Tech Transylvania, Extreme geeks, Marina's Store and Rio Hardware. He also thanks Regina Munji for her time volunteering and making this project possible, the rest of Projects Abroad volunteers, and all of the kind-hearted people who donated.
Follow The San Pedro Sun News on Twitter, become a fan on Facebook. Stay updated via RSS