American National Football League athletes visit San Pedro High School
Thursday, March 2nd, 2017
Three American National Football League (NFL) personalities, Donald "Ray" Crockett (Retired Denver Broncos corner-back), Henry Melton (Freelance NFL player) and Terrell McClain (Dallas Cowboys defensive tackle), paid a surprise visit to San Pedro High School (SPHS) on Thursday, March 2nd. Organized by their hosts at Mahogany Bay Village, the NFL stars' surprise visit at SPHS was a resounding success. During a special assembly, the entire school population gathered at the Angel Nuñez Auditorium to listen to some inspiring words from the athletes.

Master of Ceremonies Alex Nuñez welcomed the players, informing them about the history of SPHS. With much pride, MC Nuñez shared many of SPHS's athletic achievements. SPHS currently holds three national championships in volleyball, basketball, and recently in football (soccer), and the NFL players applauded the school for their excellence.

Mayor Daniel Guerrero then took the podium, giving the official welcome address. "I want to give a warm welcome to these celebrities to San Pedro Town. This definitely puts Belize in the spotlight and our beautiful island," said Guerrero. A standing ovation followed right after to acknowledge the presence of the NFL players.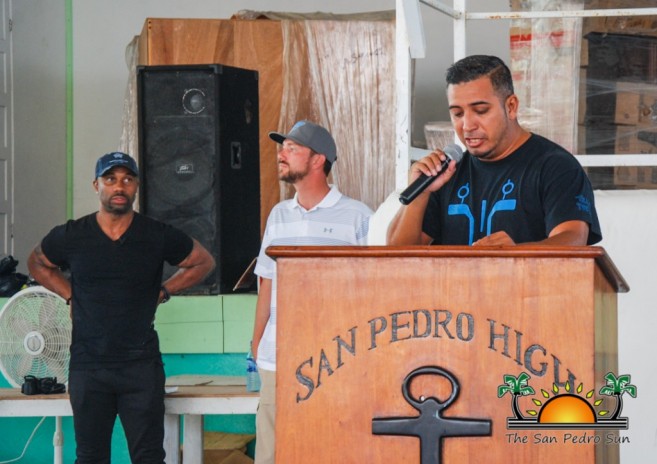 SPTC Councilor of Sports Hector "Tito" Alamilla then introduced an important business role model in San Pedro, Carl Dean, Sales Manager Director at Mahogany Bay. "I am very proud to be able to talk to the future leaders of this beautiful country, and to also bring along some of my great friends [NFL players] who are from different walks through life. They have dedicated themselves, all while struggling to achieve their dreams. It is very difficult to make it in professional sports, and it's more difficult to sustain that career. These gentlemen have done an excellent job, and they are showing a tremendous amount of interest in this country," said Dean.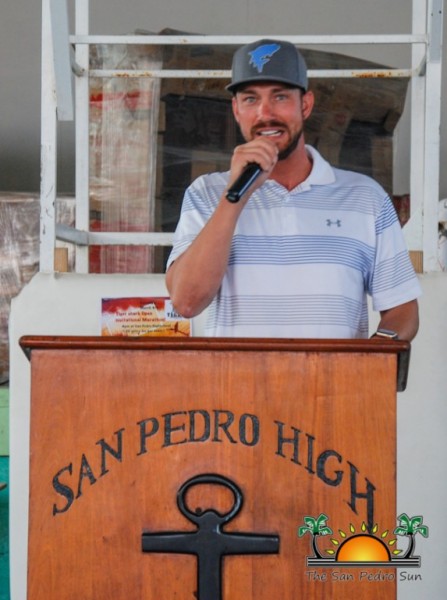 Dean had the honor of introducing two-time NFL Super Bowl Champion, Crockett. A former cornerback that played 14 years in the NFL, Crockett has earned two Super Bowl rings with the Denver Broncos. He was more than delighted to share his experience with students, encouraging them to achieve greatness as he gave his motivational speech to the student body.

"When you go through your walk or journey, you need to think about greatness. Greatness is something you do on a daily basis, and it is what you choose to be and become yourself. Within all of us, to achieve greatness it take certain things. We need to embed the three D's in their lives– Dedication, Determination and Discipline. You cannot have one and have the other. Success is not an accident, and life is about a transition of process. There's no way you can endure from the beginning to the end without a process, which is work or in modern-day 'grind'," said Crockett.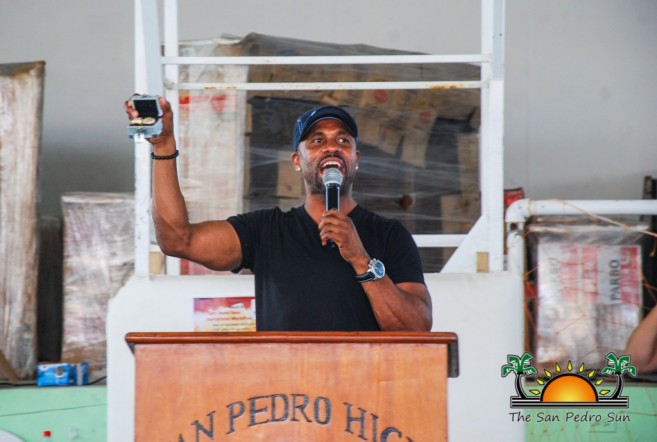 He also gave a testimony on his football journey growing up. "In my freshman year, I had a dream that I could play American football. I was five foot two inches, and the coach never gave me a jersey. He underestimated me because of my height, and at that time, it was a big bruise to my ego. He actually let me feel like I am not good enough without see me playing. I had a decision to make. To look at myself and say I am not a failure and to keep working. I encourage everyone to dream big. A lot of people are afraid to dream because they are afraid to fail. Failure is nothing more than the opportunity to start over intelligently. All of us NFL players have failed at some point, but we still found success in life. It's not where you start is where you finish. Nothing beats hard work and believe that things will work out in your favor in the end."

As the student's listened, Crockett revealed his two Super Bowl rings as a symbol to never give up. The crowd applauded his encouraging words, and afterwards, took pictures and received autographs.
Mayor Guerrero shared with The San Pedro Sun the importance of students adhering to positive advice.
"I am extremely happy to see celebrities because it gives the students great encouragement. Crockett's inspiring words, to never give up or see yourself as a failure, was wonderful. I think he did an excellent job, and he did something positive for Ambergris Caye. This will lift up the spirits of the school, and I can see the students were happy. I believe if the teachers can inject that to the students, I know they will be great assets to the community in the future," said Guerrero.

As Councilor of Sports, Alamilla stated that he is hoping that more athletes visit San Pedro in the future. "I am proud of these accomplished NFL star athletes. Crockett's speech was very inspiring. It is very difficult to get young people's attention, but he spoke their language. This is what we need and we look forward to more athletes visiting the island," said Alamilla.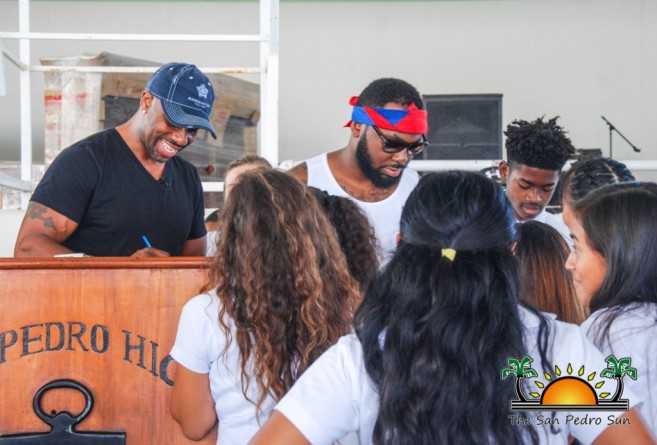 SPHS Principal Emil Vasquez stated that he is more than happy that his students were engaged during the presentation. "This was a great surprise for our school, and it was amazing to the see the reception of the student body. The students were really engaged, and I was impressed with the message of 'work' Crockett gave to the students. That is something our teachers sing to them every day, but when it comes from someone who has reached professional success, it hits home for them," said Vasquez.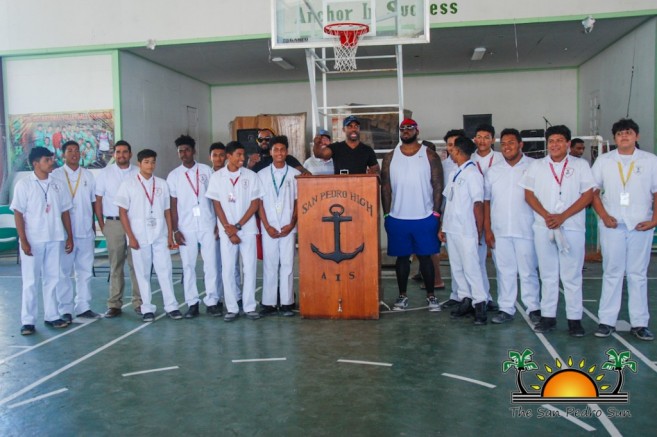 SPHS give thanks to the NFL athletes for their time, especially Crockett for his inspiring speech, the SPTC, and Mahogany Bay for making this event possible.
Follow The San Pedro Sun News on Twitter, become a fan on Facebook. Stay updated via RSS