Belizean- born player drafted into the US National Football League
Monday, May 11th, 2015
We now have a Belizean in the National Football League (NFL). The Kansas City Chiefs selected defensive tackle Rakeem Nuñez-Roches of Southern Mississippi in the 2015 NFL Draft's sixth round on Saturday May 2nd and the fact that he is in the United States ready to play in the NFL is incredible. Nuñez-Roches was born in Dangriga, Stann Creek District, Belize. In a Chiefs interview with Nuñez-Roches, he described his life prior to his arrival to the United States. "Really when I got here, I was excited," he said. "Everything amazed me, from the little things - running water to electricity. Because that's not what I'm used to, that wasn't what I was accustomed to."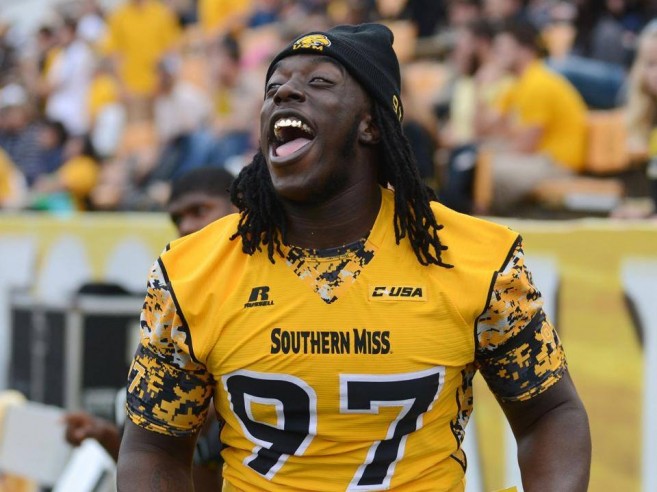 Nunez-Roches' mother remarks that she wanted him playing a sport to avoid getting into trouble, however football wasn't his main sport. "It really wasn't just football, my number one sport was baseball," Nunez-Roches said. "It went baseball, football and then basketball and track." Nunez-Roches described himself as a "phenomenal" baseball player playing first, third and pitcher.
"I like the physicality and the competition and the camaraderie of football. That's what made me stick to it."
Before converting to the defensive line at his Alabama high school, he was a quarterback.
"Growing up and seeing the hardships of my mom going from job to job, being homeless periodically here and there, having to move to a lot of places, relocating depending on job security. I really took that and I ran with it. Just seeing my mom, and I knew I wanted to be in the best situation where I grew up to put her and my kids in the best situation. I think that's what motivated me to be the best I can be. On and off the field."
Nunez-Roches also explained why he chose football. "I think I was more of a physical guy; I wanted to get anger off. You can't hit too many people in baseball; you can just hit the ball."
Nunez-Roches accomplishment is certainly an example for those aspiring for greater things in life. It is another reminder that it does not matter where you come from, anything is possible as no dream is too big. Congratulations Rakeem Nuñez-Roches on your achievement, and keep making Belize proud.
Follow The San Pedro Sun News on Twitter, become a fan on Facebook. Stay updated via RSS