San Pedro Cancer Society receives donation from SPHS student
Friday, May 12th, 2017
After winning a creative arts competition during San Pedro High School's Drug Awareness week, 15-year-old Jaye Wagner reserved a portion of his $175 prize to donate to the San Pedro Cancer Society (SPCS). On Tuesday, May 9th, Blue Water Grill (BWG) owners Kelly and Mukul Kanabar, along with Wagner's mother, Janine Lopez, BWG's Manager, officially handed over the $100 check to the organization.

After choosing to write a speech for the creative arts competition, Wagner discussed the issue of poverty and discrimination, while explaining its relation to drugs. "I saw some very important causes as to why the drug rate was so high in our country. I wanted to present these issues to the student body, while giving well-thought out solutions. I noticed that many people who live in poverty or are discriminated for being a certain race, sexuality, disability, skin color and religion, feel worthless or unwanted in society. The majority of these people would then look to drugs as a way out. For my second point in my solution, I said that we must learn the quality of tolerance so we can learn the quality of love. I wanted people to know that if we were look over each other's differences, it would be easier for people to get along," said Wagner.
He indicated that his inspiration to donate a portion of his cash award to the SPCS came from his mother. "It means a lot to me to donate to the society since my mom is a cancer survivor. I've seen how much she went through, and I want those with cancer to be strong like my mom when she battled cancer," said Wagner.
Gonzalo Muñoz, SPCS President, stated that the funds will help them greatly. "We believe San Pedro needs an educational center. Women, men, and our youth can benefit from it, learning more about cancer, preventive measures, early detection, and where to get suitable treatment. So I am thankful for the donation. Whether it is one dollar or one hundred dollars, a little always goes a long way, and it accumulates over time," said Muñoz.
He further explained that the SPCS helps to facilitate patients by processing their paperwork in order for their doctor to evaluate, and then refer the patient for treatment at the Belize Cancer Center in Dangriga (BCCD), Stann Creek. The BCCD is currently the only facility that provides oncology and hematology, and chemotherapy services to cancer patients in Belize.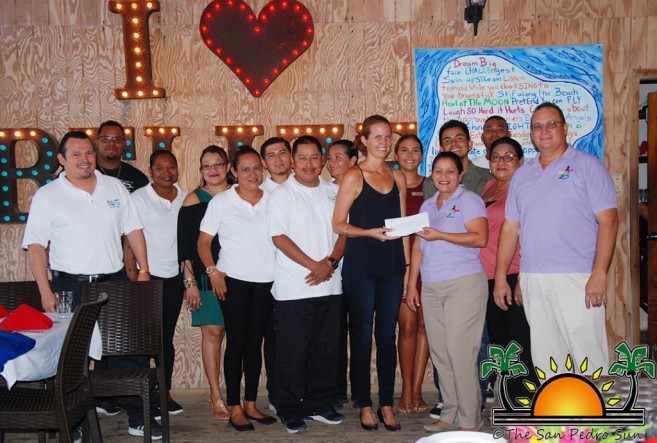 Lopez shared her cancer story with The San Pedro Sun. "Twenty years ago, I had a tumor on my ovary. For a while, I had to take chemotherapy in Merida, Mexico. I know that cancer is a struggle for many, but with the many resources available now, cancer patients can have more hope. I am very proud of my son, but I was not surprised about his choice to donate his money. It's not much, but it's the thought that counts, especially for someone who could have used all of their prize money. It was also his birthday weekend, but he was inspired by the strength of cancer patient/survivors. He is always compassionate about other people, and hopefully this can set an example for other kids," said Lopez.
She has been a staunch advocate for cancer awareness, and after the formation of the SPCS, she says that she has seen a breakthrough with women becoming more comfortable about spreading awareness.
SPCS thanks Wagner, Lopez, and BWG for the donation. They are to publish a financial report, and their plans to move forward. As there isn't a specific area allocated for the center, Muñoz hopes that Minister of Tourism and Civil Aviation, Manuel Heredia Jr. can get help secure a lot for the center.
If you are interested in becoming a member or a partner of the San Pedro Cancer Society, please call 670-5829. To learn more about the Belize Cancer Center in Dangriga, visit their website at: belizecancercenter.org, or call 522-2351.
Follow The San Pedro Sun News on Twitter, become a fan on Facebook. Stay updated via RSS