Elderly lady reported missing in San Pedro Town
Tuesday, September 12th, 2017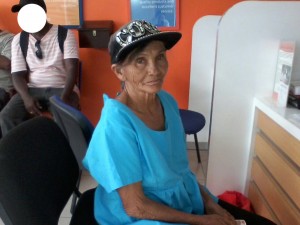 An elderly woman known only as Mrs. Julia, has been reported missing since Saturday, September 9th. The report was made after a couple of items belonging to her were located near the old dump site south of San Pedro Town. However, she is yet to be found.
The report from the San Pedro Police states that on Saturday around 11AM, a Mario Augusto Flores Peña visited the station to make the report. According to Peña, he found the items behind a residence at the old dump where he goes to feed some dogs every day. He elaborated that the items were a Samsung flip open cell phone, a key, a yellow cap, and a white nylon purse, which he identified to be the belongings of the elderly lady. Peña also told authorities that Mrs. Julia lives approximately 100 metres away from where he feeds the dogs, so it was not strange to him to find her items, since the lady usually goes there to bathe and cook, due to the many mosquitoes at her place.
Peña indicated that he held onto the items and was planning to give them to Mrs. Julia whenever he would see her again. He told police that it was unusual, not to see her, since she is always around the old or new dump site. The report continues by indicating that Peña checked at her house and it was locked. Then, with the assistance of another person, they checked through the lady's phone and called someone in Belmopan City to check if she was there, but she was not. After being convinced that she was missing, Peña went to the police station with the items. Peña stated that the last time he saw her was on Friday, September 8th, around 11AM, when he was leaving the area after feeding the dogs.
Police are investigating, and they ask the public to contact them with any information that may lead to her whereabouts. The San Pedro Police Station is located on Pescador Drive, and can be contacted via phone at 206-2022.
Follow The San Pedro Sun News on Twitter, become a fan on Facebook. Stay updated via RSS