US Sanctions against Venezuela blamed for fuel shortage
Monday, March 5th, 2018
Due to the shortage of fuel in the country, gas stations on the island were out of fuel for a short period of time. A picture posted on Facebook alarmed islanders as it stated that from Thursday, March 1st Caribeña Enterprises, located in San Pedro Town, will only be selling premium gasoline due to the shortage of regular gasoline in the country. However, on Friday, March 2nd Caribeña Enterprise representative, Israel Alpuche clarified that the fuel shortage was short lived and that operations are back to normal.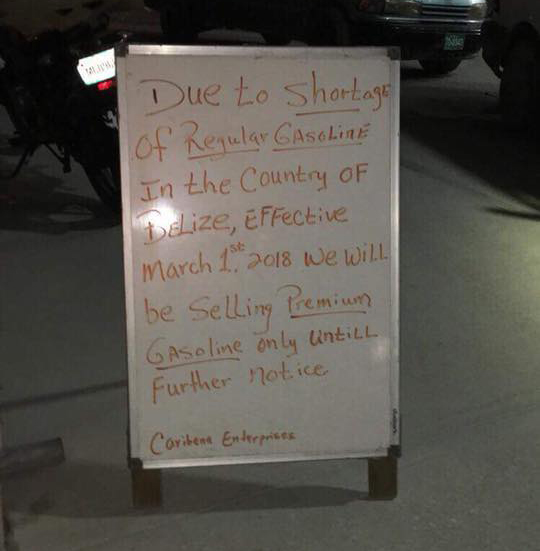 News of the shortage first surfaced in late February 2018, when sources indicated that a tanker positioned in front of Belize City loaded with almost half a million gallons of diesel and around 300,000 gallons of jet fuel was yet to be unloaded due to Government of Belize (GOB) not paying its bills. On Sunday, February 25th GOB clarified that the shortages of fuel to the country had nothing to do with the inability to pay. The following day on Monday, February 26th Deputy Chairman of ALBA PetroCaribe Belize Energy Limited (APBEL), John Mencias, in an interview with the media reiterated that GOB has no role in the current situation and explained that US sanctions against Venezuela were to blame. These sanctions mainly affect the financial markets which has limited PDVSA's access to certain banks, causing delays in payments made to and from Venezuela.
Mencias explained that PUMA, Belize's sole fuel importer, contracts a trader called Traficgura, which then places the order to APBEL, the joint Belize-Venezuela company. From there APBEL places the order to the Petróleos de Venezuela (PDVSA) to contact the vessel to ship the fuel from Curacao to Belize. Due to the sanctions placed on Venezuela by the US, PDVSA has been unable to make payments to the owners of the vessel, Syrtos, which is why the fuel has not been offloaded in Belize.
While Mencias stated that this is not the first time an incident such as this has happened, he understands the issue it causes in Belize. "It is a situation between PDVSA and vessel's owners. This is not the first time that this has happened. People are saying the government is somehow responsible for paying the ship, the GOB is not involved in this at all," said Mencias.
Mencias further stated that PUMA, who sources fuel from Venezuela, is searching for alternate fuel providers to purchase regular fuel from Guatemala in the meantime to ensure that supply remains uninterrupted. The ship bringing their alternate regular and premium fuel was expected to reach between Friday, March 2nd and Saturday, March 3rd. Belizean are now hoping that this problems gets solved as soon as possible as they are fully dependent on fuels.
Follow The San Pedro Sun News on Twitter, become a fan on Facebook. Stay updated via RSS