San Pedro rejects tourism development at Cayo Rosario
Thursday, May 17th, 2018
Tour guides and operators, concerned citizens, and activists expressed their sentiments against the building of over-the-water structures at Cayo Rosario, situated on the north-western coast of Ambergris Caye during a boat rally in front of the 10-acre island on Sunday, May 13th. Two days later, on Tuesday, May 15th, those same feelings were shared by hundreds of island residents and visitors during a public meeting held at the San Pedro Lions Den. Citizens on the island are outraged over the idea of the proposed tourism project on Cayo Rosario, which is located within the Hol Chan Marine Reserve extension. As a united voice, they sent a strong message to the investors behind the project and the National Environmental Advisory Committee (NEAC) who approved it. Islanders say they will not allow any development on the island that would jeopardize the sensitive marine environment or the livelihood of present and future generations of San Pedranos.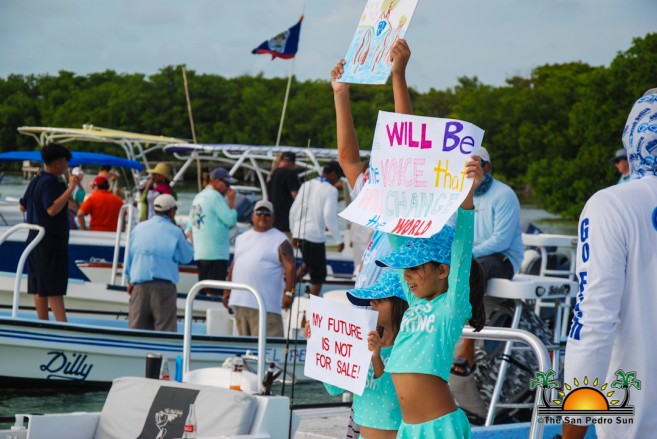 The proposed plan for a luxurious resort on Cayo Rosario calls for 40 over-the-water structures atop two piers at the southern end of the island. The rest of the development will take place on the island itself. According to concerned environmentalists, this can mean a potential threat to the mangrove on the tiny caye, which serves as nursing grounds for many ecologically important fish species. The protest on Sunday in front of the island gave stakeholders and many islanders a closer view of the danger threatening this pristine natural habitat. Armed with handwritten billboards, they voiced their discontent towards the proposed resort on Cayo Rosario.


The public meeting was headed by Chairman of the San Pedro Tour Guide Association, Philip 'Billy' Leslie, Enrique Marin of the Ambergris Caye Fishing Guide Association (ACFGA), Chairman of the San Pedro Tour Operators Association Everette Anderson and Elito Arceo. Leslie began the meeting stating that the main issue is the building of structures off the island and threatening the delicate seabed underneath. "All our fishermen know that that is where they go to take their daily tours. Some go for bonefishing, other for fly fishing and even to catch barracudas," said Leslie. "So, it is not only the bonefish or other protected species but also many other species that live there that can be affected by this project," Leslie stated that the execution of such a large development can also damage the tourism industry on the island, particularly the fly fishing sector. He added that the island community worked very hard to make the area where Cayo Rosario lies into a marine protected area in 2015, with the help of Minister of Tourism and Civil Aviation Honourable Manuel Heredia Jr., along with current Mayor Daniel Guerrero.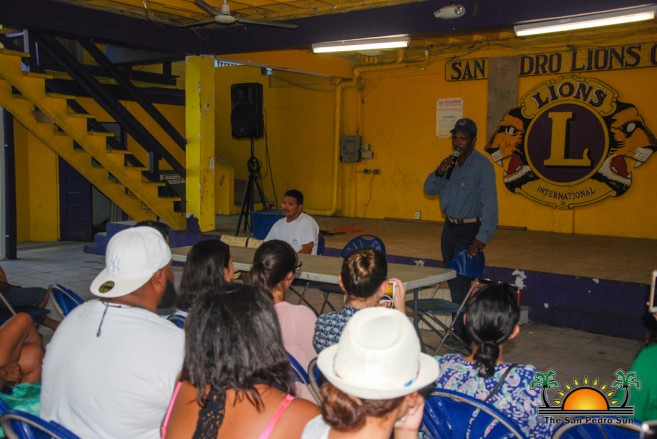 Leslie indicated that they are not anti-development, but they are opposed to building on "Queen's Land" which is considered national land or the seabed. He pointed out that due to the size of the development, it is alleged that major dredging around the caye will take place, eventually destroying the habitat for bonefish, tarpon, permit and many other marine species. This could dramatically affect this expanded area of the Hol Chan Marine Reserve. "We are not satisfied with developers being granted permission to build private property on top of our land," said Leslie.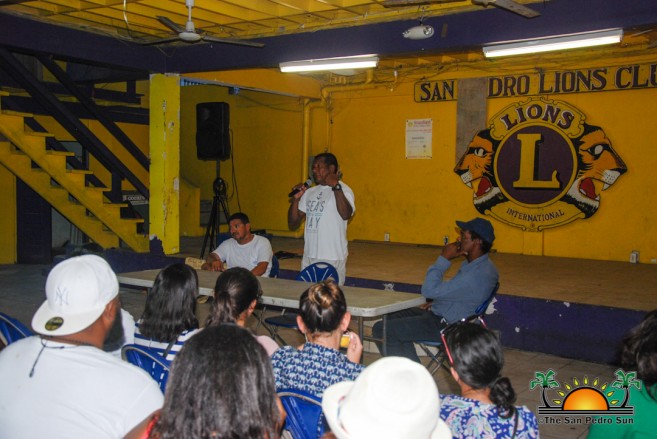 Elito Arceo is also unhappy about the over-the-water structures. "They have no right to do so, and we will hold the developers accountable," said Arceo. He reiterated the imminent damage to the environment and livelihood that this development can bring to San Pedranos. ACFGA's spoke of how San Pedro was known to be a fishing community, and that it is important to protect the traditional and commercial fishing folks on the island. Everette Anderson believes that certain things should not change and that the world needs to see what Belize has and what they want to preserve. He stressed on the fact that Belize has no reason to compete with other regional destinations. "We are pristine and unique, but if we destroy a place like Cayo Rosario, then we will have to compete," said Anderson. "We need to come together and take this issue to the lawmakers in government and let them know that we are not in agreement with this type of development."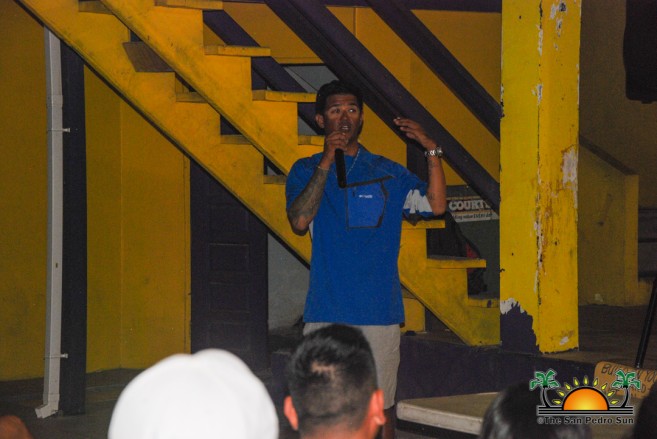 Third generation fly fishing guide and activist Alexander Gomez also shared his strong opposition towards the dredging around the island. "We do not need another Cancun or Tahiti, we have to work together to save what we have," he said. "We do not need to compete against anyone, what we have is unique," Gomez added that if other countries want to build massive projects, and in the process destroy their natural environment, that is a step Belize should not follow. One local fisherman spoke emotionally of stories he heard from his grandfather. When lobsters and fish were in abundance some decades ago. "I do enjoy the stories from my grandfather, but there is a difference now. Lobster and fish are scarce. Someday when I become a grandfather, I do not want to just tell my grandchildren stories [of what used to be] I want to be able to take them to Cayo Rosario and show them around," the young man said.
The interactive discussion also included testimonials from visitors who come to Belize specifically for fly fishing. This is the case of American visitor Timothy McCue who has been fly fishing in Belize for many years. "When I saw the plans for Cayo Rosario, it was horrifying to me," he said. "Whenever I come to Ambergris Caye, that is my favorite area for fly fishing, I always request it whenever I plan my trips to the island." He encourages every island resident to voice their opinion and fight for this case, which is putting the future of the fly fishing sector in peril. The same opinion was also shared by Jay Beebe, who works at a company in the United States that specializes in the manufacturing of fly rods. He said that many anglers that travel to many areas around the world to fish bonefish, tarpon, and permit come to Belize. Beebe believes that they can easily change their decision to come to Belize if there is a compromise with these species.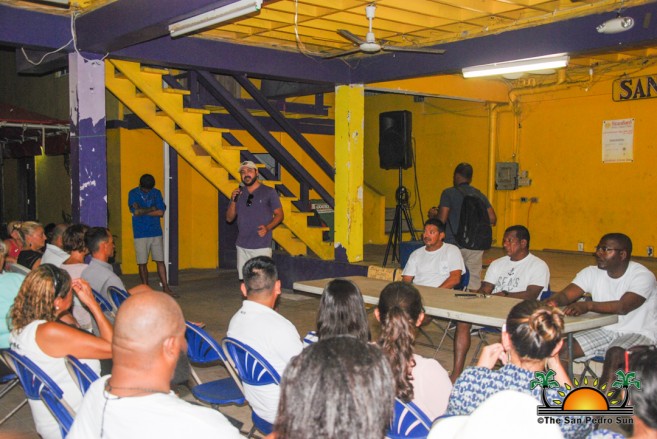 The meeting was also attended by members of The San Pedro Town Council. Councillor Gary Greif expressed his support for the islanders by objecting to the proposed development. "Everybody knows my party affiliation, but that means nothing compared to the love I have for San Pedro," expressed Greif. "When we get ready and start to move on Belmopan, I will be there with you. Belmopan should not and will not decide what happens on this island. We are the protectors of San Pedro and I thank everyone for being here. I am telling Belmopan, my colleagues in Belmopan, I Gary Greif stand against you!"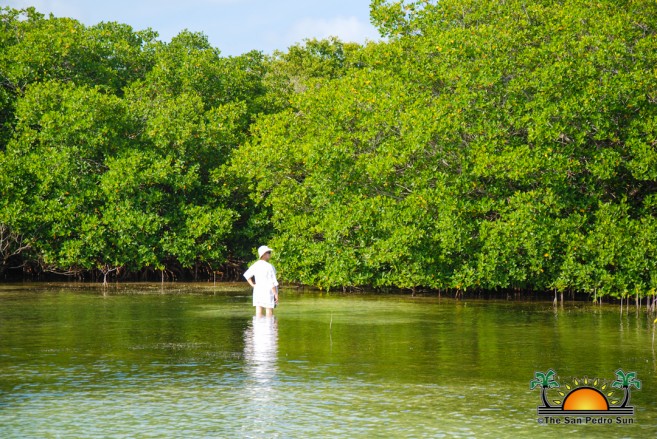 Chairwoman for the San Pedro Belize Tourism Industry Association (SP BTIA) Tamara Sniffin also addressed the audience. "In April 2017, along with many of the other organizations represented here tonight, the SP BTIA submitted a letter to NEAC in opposition to the proposed development. Obviously, it fell on deaf ears. The SP BTIA stands in solidarity with those who object to over-the-water structures within a marine reserve and we support efforts to reverse this decision 100%," she stated.
Before the meeting ended, Leslie reminded the crowd that Cayo Rosario, which was once a popular destination for bird watchers is in danger and everyone must come together to defend it. He reiterated their mission to reject over-the-water structures and dredging of the seabed. The response was a resounding 'NO' to the development at the caye. The meeting organizers are now looking at litigation against NEAC for approving the project and dismissing the concerns of Ambergris Caye residents.
Please help support Local Journalism in Belize
For the first time in the history of the island's community newspaper, The San Pedro Sun is appealing to their thousands of readers to help support the paper during the COVID-19 pandemic. Since 1991 we have tirelessly provided vital local and national news. Now, more than ever, our community depends on us for trustworthy reporting, but our hard work comes with a cost. We need your support to keep delivering the news you rely on each and every day. Every reader contribution, however big or small, is so valuable. Please support us by making a contribution.
Click to Donate
Follow The San Pedro Sun News on Twitter, become a fan on Facebook. Stay updated via RSS