A fire south of San Pedro Town destroys wooden home.
Monday, July 2nd, 2018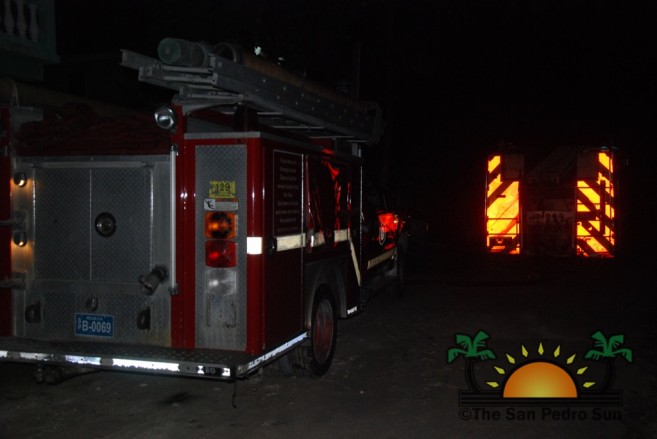 A wooden structure in the San Pablo Area, south of San Pedro Town, was gutted by a fire on Sunday, July 1st. The fire reportedly started close to midnight threatening to spread to other houses in the vicinity but was quickly put under control by the prompt response of the San Pedro Fire Department, (SPFD), who battled the blaze. No one was in the house at the time of the fire, thus, no casualties were reported. The SPFD has launched an investigation to find out the cause of the fire that has left a family homeless.
According to neighbors, the fire started minutes to midnight. They quickly sounded the alarm to others in the neighborhood. When firefighters arrived, the flames had already engulfed the structure threatening to spread to nearby bushes and other homes. Thanks to the rapid work of the firefighters and volunteers, the inferno was extinguished, however, nothing inside the house could be salvaged.
Neighbors said that the house was rented by a lady named Felisa Aguirres, where she lived with her young grandson. Aguirres, affectionately known as 'Licha,' is a businesswoman who sells clothing and jewelry, and often travels to Guatemala where she purchases all of her merchandise. She reportedly left the country on Friday, June 29th, and is to return sometime this week. The fire destroyed all her belongings, including her merchandise.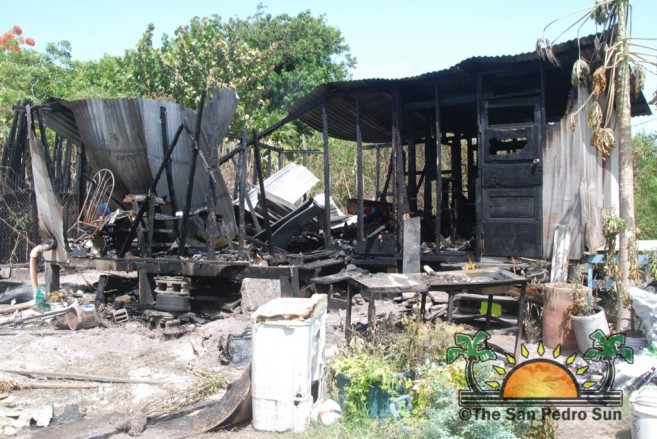 Investigators from the National Fire Service visited the area on Monday morning, July 2nd as an investigation is underway to determine the cause of the fire.
This is the second fire in less than a month on the island. On June 12th, a tragic fire in the Escalante Sub-division, south of San Pedro Town destroyed two houses and claimed the lives of four members of the Bacab and Nuñez family.  The unprecedented tragedy started in a two-story building where 30-year-old Clara Bacab Nuñez and her son 14-year-old Allan Nuñez, daughter 6-year-old Mia Nuñez and niece 16-year-old Lidia Chelin Catzim Bacab were trapped in the inferno, while her husband David Nuñez and older son 16-year-old Samir Nuñez were able to get out badly injured. A tenant living on the ground floor, Tracy Cruz, managed to escape with her two young children through the bathroom window.
The San Pedro Sun will continue following this latest fire incident and will have an update as we learn more.
Follow The San Pedro Sun News on Twitter, become a fan on Facebook. Stay updated via RSS