Island resident Rebecca Coutant publishes a book about Ambergris Caye
Friday, November 29th, 2019
The island is abuzz about the recent book, "Fifty Big Experiences on Ambergris Caye, Belize," published by island resident Rebecca Coutant. Inspired by Coutant's favorite places, food, drinks, day trips, and volunteer opportunities, it is a handy guide when visiting Ambergris Caye, from a unique islander's perspective.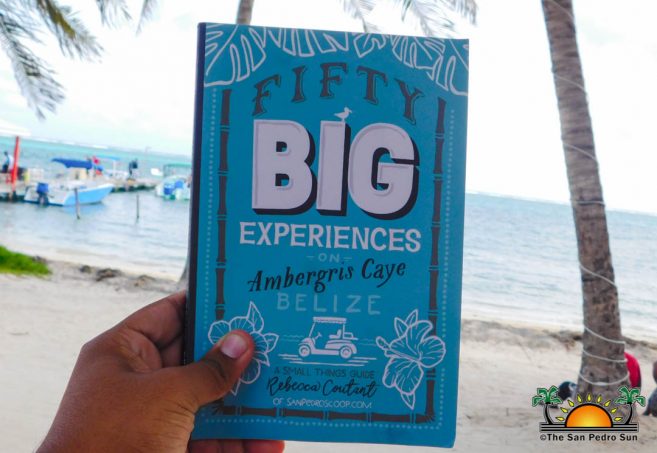 Coutant grew up in New Jersey, USA, and despite an affinity for math, she thoroughly enjoyed reading in school. She attended university in the States that strongly suggested studying abroad for a year, so she applied to a program in London and was accepted. "It really was the best opportunity I ever had. The number one thing that I think all young people should try to do is live in a different country if you ever have the chance. It really changed my perspective on my life, but I didn't know how much until ten years later," she said. At age 32, Coutant was working as an Emerging Markets Bond Trader in New York City. She was in a suit and heels 12 hours a single day, and one thing that was clear to her was that she wasn't happy. "I needed to make a change. Who knew that just a few months later, I would go on vacation with a friend to Ambergris Caye and fall in love with the island. After just one visit, I knew I wanted to move there. I just hadn't figured out exactly how that was going to happen," says Coutant. When she first moved to Ambergris Caye, she began working as a bar manager. The job was no joke, as she worked for long hours and dealt with a lot of moving parts and people, among others. Coutant spent her time off sleeping rather than enjoying the life on an island in the Caribbean. After three long years, she decided to leave that job, realizing she needed some motivation to start enjoying Belize. "I'd walk around, take a few pictures, and try some new restaurants and blog about it. I started a very basic website and quickly found that I loved doing it. I was completely obsessed, like posting twice a day in the beginning. In my mind, it wasn't writing, it was talking about my life and my experiences, and people started to respond," she said.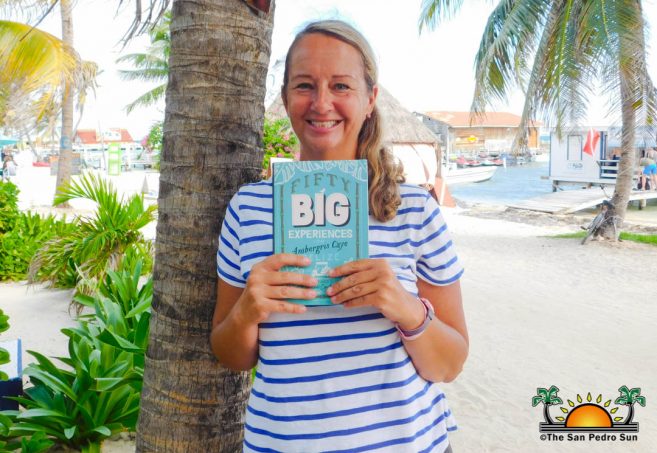 Now, Coutant is a full-time blogger at Sanpedroscoop.com and helper at Cayo Frances Farm & Fly, and she is incredibly grateful to have lived on Ambergris Caye for over 12 years. After blogging for seven years, a friend suggested writing a book, Coutant says she was intrigued but found the task daunting. She was used to posting photos and a few hundred words but putting together over 150 pages was a bit difficult. So she worked on it off and on for about four months before she was done.
"Fifty Big Experiences on Ambergris Caye, Belize," was first available as an ebook in July 2019 on Amazon. There was quite a bit of formatting involved to get it to the paperback version – and that took a few months. Coutant shared with The San Pedro Sun that since she hit publish, the feedback has been great. The book has been a bestseller on Amazon from the get-go, with great reviews as well. As of today, she has sold just about 700 books. "I wrote "Fifty Big Experiences on Ambergris Caye" like I was putting together THE LIST for friends and family visiting the island. All the things I love to do and still do on a weekly basis. It's the food I love to eat, drinks, day trips, and volunteer opportunities that anyone who visits can do – but more importantly, it's why I think you will love each experience. Fun facts and trivia – the stuff that makes visiting Ambergris Caye so special. I've been living full time on Ambergris Caye for over 12 years now, and I've watched it grow and expand like crazy. We are so naturally blessed -with the barrier reef and the vast fishing flats, gorgeous weather, and proximity to Maya cities and the Great Blue Hole. But what I love most about this island are the small things. The way you can step off the Tropic plane knowing nothing about San Pedro and quickly finding out that you never want to leave. It's the small experiences like stopping the Annie's Cart in the evening to buy cheese dip, vying for a position at the Neri's taco counter, ordering a big icy cup of banana juice, walking two dogs from the SAGA Humane Society to get them ready for potential forever homes or cheering on the San Pedro Tiger Sharks basketball team. It's these things that make vacationing and living on Ambergris Caye so special," she said.
The book consists of 50 different things that island visitors and residents alike can enjoy on Ambergris Caye. If you haven't read the book yet, it is a must, and it is available as an EBook and softcover book on Amazon.com all over the world. Copies are also for sale ($30) at The Flight Café, The French Bakery, and Beach Basket at Grand Caribe Resort in San Pedro Town. More copies are expected to be available in different locations around town soon. For more information about Coutant or her book, you can follow her on Facebook, Instagram, and Twitter as Sanpedroscoop or visit her website https://www.sanpedroscoop.com/.
Follow The San Pedro Sun News on Twitter, become a fan on Facebook. Stay updated via RSS