IOM Belize organizes a double humanitarian charter flight for stranded migrants
Saturday, August 1st, 2020
The International Organization for Migration (IOM) in Belize organized (30/07) its second humanitarian charter flight carrying 15 stranded Honduran nationals to Honduras and bringing 18 Belizeans who returned home from Honduras. The group had been waiting in Belize and Salvador for almost four months due to COVID-19 related border and airport closures.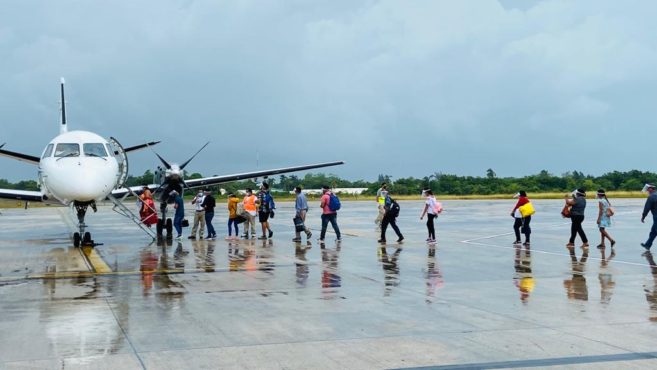 IOM has supported the Governments of Belize and Honduras in their efforts to return these stranded group of migrants. These efforts were closely coordinated with the Ministries of Foreign Affairs of both countries and their Embassies, the Ministry of National Security, Ministry of Health and The Department of Immigration.
Ensuring the protection of the most vulnerable is at the heart of IOM's support in Belize and Honduras. IOM staff in Belize, prior to repatriation, provided humanitarian assistance to the group which included medical assistance, lodging, food, hygiene kits and protective products for COVID-19 (masks, face shields and hand sanitizer).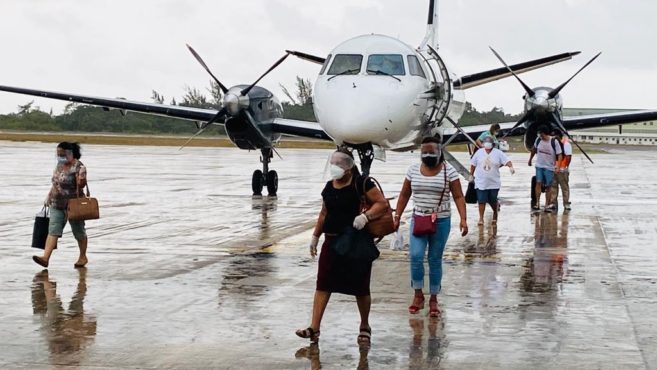 Interviews were conducted remotely, and operations followed the security protocols established by the Government of Belize and the United Nations.
Upon arrival, returned Belizeans were checked by the Ministry of Health and placed in mandatory 14-day quarantine, supported by IOM Belize, in a designated place by the Quarantine Authority of Belize. "We found the AVR program on Internet when we saw that there was a repatriation flight from El Salvador to Belize. We were happy to know that in Honduras there was also this" explains a Honduran resident in Belize who was stranded with her husband and son. They were in Honduras for a work project, but since it ended in April, they wanted to return to Belize.
Since the beginning of the pandemic, IOM Belize has responded to the health emergency in coordination with States and partners, and has assisted 50 stranded individuals through the Assisted Voluntary Return Program, an IOM humanitarian project that aims to provide a safe and dignified return for migrants who wish to return voluntarily to their countries of origin but do not have the means to do so. The program is funded by the United States Department of State's Bureau of Population, Refugees, and Migration (PRM).
Follow The San Pedro Sun News on Twitter, become a fan on Facebook. Stay updated via RSS