Celso Poot winner of the 35th James A. Waight Award
Wednesday, February 17th, 2021
We are delighted to announce that Mr. Celso Poot, Operations Manager of the Belize Zoo and Tropical Education Centre and founder of the Belize Tapir Project, has been awarded the 2021 James A. Waight Award.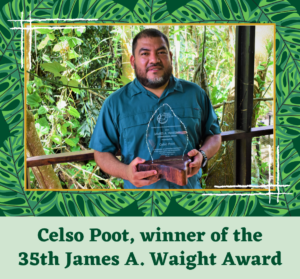 The award, which is presented by Belize Audubon Society (BAS) in memory of founding member and the Society's first president, Mr. James A. Waight, celebrates outstanding work in the protection and enhancement of Belize's natural environment.
Celso Poot is the 35th recipient of the award, which was presented to him by BAS' Environmental Education & Communications Director, Dareece Chuc, as part of the virtual ceremony which was broadcast via Facebook and YouTube due to pandemic restrictions.
In 1995, Celso Poot's career started as an Environmental Educator at The Belize Zoo and Tropical Education Centre. He later transitioned to Education Director where he developed environmental education programs that have impacted thousands of Belizeans and visitors. These include, conservation camps, professional development workshops for primary school teachers, community outreach in the Rio Bravo Conservation and Management Area to complement the Belize Harpy Eagle Restoration Program; and educational programs to address human-jaguar conflict.
Inspired by many years of hosting April the Tapir's birthday celebrations at the zoo, in 2008 Mr. Poot began monitoring tapir fatalities on the Burrell Boom road. In the years to follow, his work would include raising awareness with motorists on tapir collisions and lobbying the government for the placement of 'Tapir Crossing' signs on the Burrell Boom road, resulting in reduced tapir deaths.
His tapir research has been expanded across the country, and Mr. Poot has been recognized for this by becoming the country's focal point for the IUCN Tapir Specialist Group for Belize, and being the recipient of a fellowship to fulfill a PhD in Interdisciplinary Ecology at the University of Florida.
Speaking after receiving the James A. Waight Award, Celso Poot said: "The James A. Waight Award is something I look forward to annually, to see who's who in the conservation field in Belize. I've been aware of this award for as long as it's been in existence, and to be among this group of people really is an honor. The recipients of the James A. Waight Award are people who are working from the heart and making change in Belize, and I thank the Belize Audubon Society for selecting me for this prestigious award."
Executive Director of Belize Audubon Society, Amanda Acosta, said: "We received several extremely strong nominations for the James A. Waight Award this year, and choosing a winner was not an easy decision, but Celso's entry really stood out for his dedication to educating the Belizean public, the role he has played as a mentor for other aspiring conservationists, and the work he is continuing country-wide to protect our national species, the tapir. On behalf of the BAS staff and Board of Directors, I would like to offer my warm congratulations to Celso and I look forward to seeing what other great work he goes on to achieve in the future."
Follow The San Pedro Sun News on Twitter, become a fan on Facebook. Stay updated via RSS